Lamborghini Aventador LP 700-4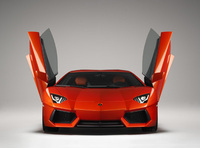 With the Aventador LP 700-4, Automobili Lamborghini is redefining the very pinnacle of the world super sports car market – brutal power, outstanding lightweight engineering and phenomenal handling precision are combined with peerless design and the very finest equipment to deliver an unparalleled driving experience. With the Aventador, Lamborghini is taking a big step into the future – and building on the glorious history of the brand with the next automotive legend. The first customers will take delivery of the new Lamborghini Aventador LP 700-4 in late summer 2011.
The technology package of the Lamborghini Aventador LP 700-4 is utterly unique. It is based on an innovative monocoque made from carbon-fiber that combines exceptional lightweight engineering with the highest levels of stiffness and safety. The new twelve-cylinder with 6.5 liters' displacement and 515 kW / 700 hp brings together the ultimate in high-revving pleasure with astonishing low-end torque. Thanks to a dry weight of only 1,575 kilograms (3,472 lb), which is extremely low for this class of vehicle, the weight-to-power ratio stands at only 2.25 kilograms per hp (4.96 lb/hp). Even the fantastic 0-100 km/h (0-62 mph) acceleration figure of just 2.9 seconds and the top speed of 350 km/h (217 mph) do not fully describe the Aventador's extreme performance. And yet, fuel consumption and CO2 emissions are down by around 20 percent compared with its predecessor, despite the considerable increase in power (+8%).
The ISR transmission is unique among road-going vehicles, guaranteeing the fastest shifting time (only 50 milliseconds) and a highly emotional shift feel, while the lightweight chassis with pushrod suspension delivers absolute handling precision and competition-level performance. The expressively-designed interior offers hi-tech features ranging from the TFT cockpit display with Drive Select Mode system. The Aventador will be built to the very highest quality standards in an all-new production facility in Sant'Agata Bolognese.
"With the Aventador LP 700-4, the future of the super sports car is now part of the present. Its exceptional package of innovative technologies is unique, its performance simply overwhelming," says Stephan Winkelmann, President and CEO of Automobili Lamborghini. "The Aventador is a jump of two generations in terms of design and technology, it's the result of an entirely new project, but at the same time it's a direct and consistent continuation of Lamborghini's brand values. It is extreme in its design and its performance, uncompromising in its standards and technology, and unmistakably Italian in its style and perfection. Overall, the dynamics and technical excellence of the Aventador LP 700-4 makes it unrivalled in the worldwide super sports car arena."