Range Rover Evoque - personalised to suit each individual customer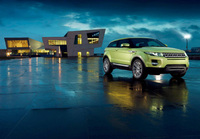 The exciting all-new Range Rover Evoque – the smallest, lightest, most fuel efficient Range Rover ever produced – brings its stylish personalisation options to life at the 2011 Geneva Motor Show.
The coupé and 5-Door models on display highlight the Range Rover Evoque's vast array of personalisation options, which gives every customer the opportunity to tailor their Evoque to suit their lifestyle. A huge number of colour and feature combinations are available, such as contrasting roof colours and beautifully crafted designer interiors.
As the Evoque gears up for its sales launch, there is a growing buzz amongst prospective buyers who have been seduced by the car's bold and radical approach.
Much of this awareness stems from Range Rover's 'Pulse of the City' campaign, which links a worldwide audience via a series of interactive events and social media activities.
The campaign features contributions from over 40 'City Shapers', leading influencers from fashion, design, music and film, who are based in major cities around the globe.
"The all-new Range Rover Evoque has received an overwhelming reception following its public debuts in Paris and Los Angeles," said Land Rover's global brand director John Edwards. "Many prospective buyers are customers who have not considered Land Rover before, and yet are excited by the unique design, premium technologies and compact size that the Evoque offers."
Tempting array of options
Customers can tailor their Range Rover Evoque with a tempting array of design, trim and technology options, so that each car meets its customer's own taste and lifestyle.
The choices range from designer exterior packs, contrasting colours on the roof and spoilers, immaculately-trimmed designer interiors, and a range of desirable technologies to maximise comfort and enjoyment on board.
Gerry McGovern, Land Rover design director said: "Customers like to make their own unique statement with a vehicle and we have provided individuals with lots of opportunity to personalise their new Range Rover Evoque, whilst maintaining the essence of the design.
"The options on offer are spectacular and customers can use our 'designers choice' to guide their selection, with carefully co-ordinated colour and material combinations that have their own distinctive character," he added.
Three design themes
Uniquely in the compact SUV segment, the Range Rover Evoque allows customers to specify a lavishly appointed cabin, with soft, premium leather and beautifully tailored, twin-needle stitching providing a luxurious finish to almost every surface of the instrument panel, doors and seats.
Rather than using a traditional trim hierarchy, the Range Rover Evoque gives customers the choice of three design themes: the cool and contemporary 'Pure', the luxurious 'Prestige', and the bold and sporting 'Dynamic'.
Customers can further tailor these themes with different designer interiors, option packs, standalone and accessory items, providing even more freedom to specify the car of their choice.
Total choice
Even just considering the appearance related items, the scope of options includes:
12 exterior colours
three contrasting roof colours
seven alloy wheel designs, from 18-inch to 20-inch
16 tailored designer interiors
four metal finishers and two contemporary wood veneers
three interior headliner colours
illuminated aluminium and chrome tread plates
full-sized fixed panoramic glass roof
black or chrome roof rails
To complement these items there is a vast range of comfort and convenience technologies to choose from, such as the sensational 825W Meridian surround sound system, the innovative Dual-View touchscreen display, TV, rear seat entertainment, an advanced Park Assist automated parking system and powered tailgate.
Owners can also choose from a very broad selection of official Range Rover accessories. The accessory range includes exterior and interior styling, together with a comprehensive choice of practical loading and towing items.
Most of the items were developed specially for the Range Rover Evoque, from bright side protection sill tubes and sports pedals, to roof-mounted carrier systems and a full towing kit, including tow hitch mounted bicycle carriers.
Versatile luggage stowage systems are made possible with the addition of loadspace stowage rails. A strap with an Inertia locking reel, which works in a similar way to a seat belt, is one feature which prevents movement of items in the luggage area.
Space and versatility
The clever packaging of the interior of the Range Rover Evoque adds further space and versatility to the luxurious cabin. Family users will find the car provides the flexibility and luggage space of a compact station wagon.
Carefully designed stowage areas under the load floor add extra capacity, while loadspace stowage rails help to secure contents in the luggage compartment. The 5-Door offers 60/40 folding rear seat squabs which allows the luggage capacity to be expanded, with a substantial volume of 1445 litres available with the rear seats folded.
A full-sized fixed glass panoramic roof enhances the sensation of space and comfort in both the coupé and 5-Door, providing a superb uninterrupted vista for all occupants and flooding the interior with natural light.
Dynamic handling and effortless, refined performance
Land Rover engineers have developed the Range Rover Evoque to provide customers with a polished driving experience that combines dynamic and sporty handling with responsive, effortless performance and refinement.
The car can be specified with the sophisticated Adaptive Dynamics system which uses advanced MagneRide™ dampers to provide a particularly good balance of confident, nimble handling and supple, controlled ride.
Murray Dietsch, director of Land Rover programmes, said: "We have focused on ensuring that the car is agile and fun to drive, so that customers have a rewarding experience, even in day-to-day urban driving. Advanced technologies such as MagneRide™ mean we can ensure that this dynamic prowess does not come at the cost of top-quality refinement or comfort."
As a true Range Rover, the Evoque delivers the all-weather, all-surface capability that is a hallmark of the Land Rover brand, enhanced by the latest version of the company's signature Terrain ResponseTM system.
Drivers who take their Range Rover Evoque off-road will be reassured to know that in addition to generous ground clearance, the car has a significantly better breakover angle, approach angle and departure angle than other premium compact SUVs.
The Evoque will be the first Range Rover to offer customers a choice between the standard, full-time, intelligent, four-wheel-drive system, which delivers outstanding performance and traction on all surfaces, and a low-carbon, front-wheel-drive option for further enhanced fuel economy.
The Range Rover Evoque offers a smooth and responsive turbocharged powertrain line-up with the choice of state-of-the-art diesel or petrol engines. The comprehensively updated 2.2-litre turbodiesel has 190PS or 150PS derivatives. The front-wheel-drive coupé version combined with the 150PS 2.2-litre engine achieves sub 130g/km* CO2.
The state-of-the-art new 240PS, 2.0-litre Si4 petrol engine combines direct fuel injection, turbocharging and twin variable valve timing for exceptional driveability and fuel efficiency, delivering 0-60 mph in 7.1 seconds*.
Commitment to sustainability
With its compact footprint and advanced technologies, the Range Rover Evoque reinforces Land Rover's commitment to environmental sustainability.
Lightweight construction techniques and the addition of a front-wheel drive variant ensure optimum efficiency is achieved. A new range of state-of-the-art diesel and petrol engines comes with direct injection and stop start (diesel manual only). The Evoque also adopts low CO2 systems such as Electric Power-Assisted Steering (EPAS) and is built to maximise end of life recyclability.
The result is a Range Rover that sets new standards in the premium compact SUV segment for fuel economy and CO2 emissions, with the front-wheel-drive diesel coupé model capable of an exceptional sub 130g/km* CO2.
Distinctively Evoque
Land Rover designers and engineers have developed a host of distinctive and innovative features, to ensure the Range Rover Evoque stands out from the crowd.
The Range Rover Evoque is available with xenon headlamps where first to catch the eye is the powerful signature graphic in the front running lights, created by innovative LED light-blade technology. A similar graphic is repeated in the LED rear lights, with their jewel-like 3D petal design.
Approach the car at night and you will also see a bold Range Rover graphic alongside the front doors, illuminated by the 'puddle lights' that shine from the mirrors.
More special touches greet you when you enter the car. The interior displays come to life with a choreographed animated start-up sequence, while the rotary auto shifter completes the 'greeting' as it rises silently into the driver's hand.
LED ambient lighting provides sophisticated and precise illumination within the cabin; select Dynamic mode, and a sporting red colour scheme fills the interior as well as the instrument dials and cluster display.
Packed with premium technologies
The Evoque benefits from the same comprehensive selection of the latest technologies as the larger Range Rovers, in terms of controls, connectivity, comfort and convenience for all occupants.
At the heart of the control system is Range Rover's much-acclaimed, 8-inch, high-definition touch-screen display with its crisp graphics and simple, intuitive menu structure. The display is available with the innovative dual-view technology, so that driver and passenger can view completely independent content.
Tech-savvy customers get the connectivity they demand with a comprehensive package that includes Bluetooth hands-free mobile phone use and audio streaming, plus a range of USB and auxiliary inputs for iPods and other portable devices.
The Evoque is the first Range Rover to offer breathtaking new sound systems developed in partnership with the high-end audio specialist Meridian. The premium Meridian offering is an 825W, 17-speaker system that delivers the ultimate in surround-sound performance.
Other features available to Range Rover Evoque customers include:
Park Assist for automated parallel parking
Blind Spot Monitoring system
Surround Camera System with five digital cameras, including a reversing system
Full dual-zone automatic climate control, featuring a Park Heater timer facility
Hard-drive navigation system
DAB/FM/AM/Sirius tuners, with hard-drive virtual 10xCD multiplayer
Digital and Satellite TV, and DVD playback
Rear-seat entertainment package, with 8-inch video screens, digital wireless headphones and touch-screen remote control
Keyless entry system and powered tailgate
Adaptive headlamps with Automatic High Beam Assist
Heated windscreen, front seats and steering wheel
Mounting anticipation
With the Range Rover Evoque on schedule for its sales launch, there is mounting anticipation among a global audience about this exciting new car.
Range Rover is supporting the launch with an innovative campaign centred on the Pulse of the City. This project involves participants worldwide collaborating together through social media and interactive on-line activities to celebrate the life of major cities around the globe.
"The Range Rover Evoque is ideally suited to urban driving, with its agile handling, compact size and green performance, and it's fitting that our Pulse of the City campaign is focused on capturing the spirit of city life," said John Edwards, Land Rover's global brand director.
"The campaign has already generated a huge buzz around the launch of the car, and we look forward to many more people taking part and contributing to the pulse of their city," he added.
City Shapers
The Pulse of the City campaign features contributions from over 40 'City Shapers', leading influencers from fashion, design, music and film, who have helped shape the cities they live in.
During the launch period, these global 'City Shapers' will have their journeys tracked around their favourite cities. The routes will be posted on helloevoque.com, along with comments about the journey, to create a living interactive guide to their local urban environment.
Using a free Pulse of the City app – available for iPhones and android devices – individuals are invited to add to the conversation by recording and posting their own journeys.
The Grammy Award winning Los Angeles based rock band OK Go were among the first City Shapers to record a journey, setting off on an 8-mile musical parade in the streets of LA which spelt out the words OK Go.
As the Pulse of the City grows, Range Rover will be asking its City Shapers and users of the app more about their connection to their city, with responses building an evolving portrait of each urban landscape.
Each City Shaper will also be personalising a Range Rover Evoque to suit their own personal tastes, and using the car as part of their local city lifestyle.
Wireframe sculptures
As part of the launch, spectacular wireframe sculptures of the Range Rover Evoque have been used to introduce the car to consumers in a variety of prestigious city locations.
The first 10 sculptures – including four which were transformed into art installations by well-known Parisian artists – were displayed in the French capital to celebrate the car's global unveiling at the Paris Motor Show.
Four of these were transformed into unique street art installations by the well-known Parisian artists André (AKA Monsieur A), JCDC, Surface To Air and Yorgo Touplas and focused on themes of luxury, design, sustainability and technology, to represent key aspects of the car.
A total of 40 Evoque-inspired wireframes have since been creating a buzz in places as diverse as Sydney Opera House, Milan Fashion Week, Santa Monica Beach in California, Edinburgh Castle, Solyanka State Gallery in Moscow, and Sao Paulo Fashion Week in Brazil.
The travels of the wireframe Evoques has been documented by Range Rover on local social media sites and blogs accompanied by stunning imagery of the sculptures.
Smaller, Greener Range Rover
A smaller, greener Range Rover, the Evoque has turned the groundbreaking Land Rover LRX concept car into reality, faithfully capturing the spirit of its landmark cross-coupé design.
The Range Rover Evoque is available in two distinctive versions: the stunning coupé model, which precisely mirrors the concept car design, and the stylish 5-Door, which adopts a slightly higher rear roofline for extra practicality and greater family appeal.
Both coupé and 5-Door Evoque models stay true to the core values of the Range Rover brand, providing premium levels of craftsmanship, luxury, performance and renowned Land Rover all-terrain capability, but in a more compact package.
Sold in 160 markets worldwide from summer 2011
The Range Rover Evoque will be manufactured at Land Rover's multi award-winning Halewood plant in Merseyside, UK. The car will go on sale in more than 160 countries worldwide from summer 2011. Prices will start from £30,000.
John Edwards, Land Rover's global brand director said: "The Range Rover Evoque remains true to the brand's core values of premium luxury and formidable all-terrain performance and combines them with dynamic and sporty handling. The stunning coupé and 5-Door models offer unprecedented customer choice, broadening the appeal of this exciting new addition to the marque."