MasterChef Dhruv Baker cooks up a storm in India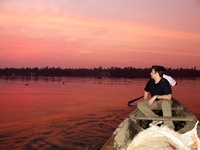 Dhruv Baker, winner of the BBC series, MasterChef in 2010 recently visited India to discover new recipes and spices, whilst staying with Mahindra Homestays.
Dhruv won MasterChef with his unique 'East meets West' cooking philosophy, and his yearning to find new recipes, cooking techniques and spices led him on a journey of culinary discovery through Goa and Kerala. Created by Mahindra Homestays, Dhruv's schedule was packed full of culinary and cultural delights, including visits to food markets, crabbing and fishing, cook-offs with local chefs, barbequing (and some cocktail making) on the beach, canoe rides as well as experiencing a very traditional Ayrurvedic massage.
Dhruv's trip with Mahindra Homestays has helped to create recipe ideas for his upcoming cookbook and new restaurant in London. Speaking of the cooking inspiration he gained during his trip, Dhruv claimed: "I have always loved India and the wonderful variety of food but looking at it from a chefs perspective for the first time was a real eye-opener... The variety of chillies available for instance, each with its own unique characteristics and the effect of one variety over another on a dish. This was also the first time that I had seen mussels sold out of their shells... to have them in a delicious spiced marinade then coated in semolina and deep fried was a real treat".
Speaking of his highlights of the trip, Dhruv recalls: "The evening meal at Taamara Homestay (in Kerala) where we cooked in the garden ... course after course arrived of the most wonderful seafood - Masala crab, fish curry, marinated and fried grey mullet, all caught that afternoon and delivered straight to the house by the fisherman".
Dhruv spent time in three Mahindra homestays, soaking up the culture of India that guests can only experience by staying with locals. This was Dhruv's first homestay encounter: "I can say that my experience of homestays has far surpassed my expectations. The hosts were unbelievably welcoming and hospitable and the feeling of genuine warmth is one that you would never find in a hotel... I will certainly be back and will definitely be making the most of my new found way to travel!"
Mahindra Homestays allows guests to stay in real Indian homes - experiencing the culture in an authentic setting, away from the usual tourist tracks. A homestay combines the comfort and distinction of a boutique hotel with the personal hospitality, informality and local knowledge enjoyed when staying with friends. Mahindra's huge portfolio of homestays across the country gives guests the unique opportunity to experience the specific culture of the area.
Mahindra Homestays can be booked via: mahindrahomestays.com