The greener way to make every penny count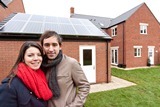 The cost of buying and running a new home is becoming increasingly tough for first time buyers; however, one couple at Crest Nicholson's St John's Park development in Marlborough have found an innovative way to keep the running costs of their first home down, with the added benefit of being kinder to the environment.
Anna Wakefield (26) and fiancé Rob Clark (28) recently moved into their new property at the development and wasted no time at all in enlisting the help of Crest Nicholson and Anna's employer, Grant UK, to make their home even more environmentally friendly by installing solar PV panels onto the roof of their garage.
Through her line of work Anna is fully aware of the advantages that using renewable energy can bring to a home owner. Anna commented: "The Government introduced a scheme earlier this year whereby payments are offered to households that use MCS Approved solar technology to supplement their electricity. We are paid through Scottish and Southern for the electricity we generate on the Feed-in Tariff (FiT) Scheme, which will save us quite a bit of money.
"As well as knowing that we're sourcing our energy with renewable technology, the rates are guaranteed for 25 years and we receive 41.3p for every 1kW generated by the system from the Government, whether we use it or not. We should produce around 1650kW per year, giving us an approximate income of £680 per year, in addition to free power. Over 25 years we'll see a staggering return of at least £17,000.
"The staff at Crest Nicholson were really supportive when we explained that we wanted to make this environmentally friendly addition to the property. They helped by installing the wiring for the Grant Solar PV 2.1kW system to make the process easier for us and did a fantastic job, with Grant UK and Renewable Energy Incentives taking care of the installation of the 12 PV panels and inverter.
"We had been house hunting for about a year until we saw the plans for St John's Park. The location is perfect for us, as I work in Devizes and my partner works on the M4 corridor, so it's close to the motorway, but in a rural area with amazing views of the countryside.
"The solar PV panels look great on our south facing garage roof, as they're a similar colour and blend in well. We're really pleased with the final result and are hoping to see significant cost savings after a few months. I'd advise anyone who was interested in finding out more about solar energy to visit the Grant website – grantsolar.com, which has lots of helpful advice about renewable energy and Feed-in Tariffs."
Laura Osborne, Sales Manager for St John's Park, said: "Creating sustainable and environmentally friendly communities is at the heart of our business so we were more than happy to go the extra mile to help Anna and Rob achieve their goal of using renewable energy to power their new home. St John's Park has something to offer everyone, so we encourage homebuyers to visit the sales team to see how we can help them."
St John's Park comprises 169 traditionally designed properties including three, four and five bedroom homes. There are currently a number of attractive three, four and five bedroom properties on offer at St John's Park, all of which have a garage and parking space.
Prices currently start at £275,000 for a three bedroom 'Kensington' and range to £535,000 for a five bedroom 'Dorchester'. For more information, or to receive the brochure, please visit the on-site Sales and Marketing Suite.