Airstream and Land Rover Discovery - the ultimate rig tours Europe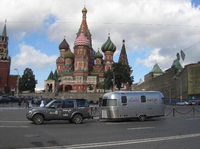 When Ben Samuelson's Marketing & PR agency Samuelson Wylie Associates was commissioned to organise a programme of promotional events around Europe for an American medical company, there was only one choice for the mobile exhibition unit, especially as they are longstanding clients of SWA - an Airstream travel trailer and only one choice for the tow vehicle – a Land Rover Discovery 4.
The itinerary was predictably gruelling, with two legs of 6,200 miles in 40 days and 5,000 miles in another 19 days. They took in 15 cities over the two trips, including stages from Vienna to Milan, Zurich to Barcelona, Madrid to Paris and Moscow to Kiev, with customer and media events taking place in the Airstream and its awning at each stop. The inside of the Airstream was modified by Samuelson Wylie to feature both a treatment room and luxurious meeting facilities, and over 300 VIPs were entertained as part of the programme.
The Land Rover and Airstream turned heads everywhere they went, and coped with everything the epic journey could throw at them. From driving snow to 80? heat, from Alpine and Pyrenean mountain passes to the atrocious roads between the Finnish border and St Petersburg, the extraordinary engineering and fine build quality of both car and trailer shone through, mile after mile after mile.
Martin Cranshaw, who heads up Samuelson Wylie's Events Division, said, "due to the high profile of the client and the demands of the programme, we really couldn't settle for anything less than the very best. We've been fortunate enough to work with Airstream for three years now and have undertaken a lot of press and marketing work for them with Land Rover so we knew how stunning they would look together and how faultlessly they would perform. Our security officers also recommended that we make sure that we had the performance to get out of trouble safely and quickly and, in tests before we went, we were surprised to find quite how effective the new Discovery's more powerful engine and Trailer Stability Assist electronics were when combined with the sophisticated chassis and aerodynamic efficiency of the Airstream. Fortunately, we never had to put it to the test…"