Top tips for making your home party-ready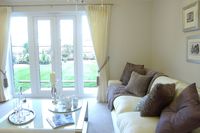 People in the north west of England are increasingly staying at home to entertain guests, rather than socialise out, according to new research by housebuilder Taylor Wimpey.
68 per cent of people said they were going out less than they used to, with 58 per cent saying that having less disposable income had affected their social life. 19 per cent also said that they preferred to stay in and entertain friends at home.
The popularity of programmes such as Come Dine With Me and House Guest has also been influential in the shift towards making our homes the hub of our social lives. And the design of modern houses is reflecting this change too, with many featuring open-plan kitchens, separate dining rooms, downstairs cloakrooms and ensuite bedrooms.
Anthony Mansfield, regional sales and marketing director for Taylor Wimpey Manchester, comments: "For many, entertaining at home is a big part of their social lives. People tend to live further away from family and friends than they used to, so having weekend guests is more common. Living away from family also means that finding childcare can be more difficult - 28 per cent of people in our survey said they went out less because of the availability and cost of babysitters."
Taylor Wimpey is currently building a range of homes in Ellesmere Port, Wrexham and Regency Court, suitable for all stages of the property ladder.
Tudor Grange in Ellesmere Port, a selection of three and four bedroom homes priced from £114,745 with the housebuilder's Easystart shared equity scheme.
Regency Court, located within walking distance of Chester city centre, has a selection of two bedroom apartments and two, three and four bedroom houses, with prices from £99,995 for an affordable property available in association with Wrexham Council.
Mountain View in Wrexham has two bedroom semi-detached homes, three bedroom mews, townhouse and detached homes and four bedroom, with prices starting from £87,500. A selection of properties are also available to buy with the Easystart shared equity scheme.
So how can you embrace the growing trend for entertaining at home – whether it's a big birthday bash, intimate dinner party or girls' night in? Taylor Wimpey has teamed up with interior design expert Debbie Evans who is creative director of Show Business Interiors and has been designing inspirational showhomes for Taylor Wimpey for the last 10 years. Here she offers some tops tips on making your home party-ready.
Dining Rooms
This is your primary room for creating a sense of occasion, so be bold and give it a bit of theatre. Wallpaper gives you the chance to create a great statement without overly filling space. Look for rich opulent papers, strong colour and contemporary twists.
Think in terms of bold colours – the Victorians famously favoured deep dark reds in their dining rooms to create a sense of passion and appetite.
Dress your table generously – don't over focus on a large central display as it can be distracting and an obstacle to the easy flow across and around the table between your guests. Have fun with your crockery, cutlery and condiments – look out for the unusual; you can create a sense of character with almost anything intended for the table these days. Check out design companies such as Andrew Martin for inspiration.
Take your cue from high end restaurants and avoid hard chairs – your seating should be comfortable and inviting.
Lighting should be two fold – a strong central ceiling light such as a contemporary chandelier will enhance the sense of occasion as your guests arrive, but you want to be able to soften down to defused or side lighting as the evening moves on. Lamps and candlelight can provide a warm glow and provide the right ambience.
Guest Bedrooms
Boutique hotels still lead the way for the design of aspirational bedrooms – cast your mind back to your last special weekend away or pick up a boutique hotel guide such as Mr & Mrs Smith for some inspiration.
Think about comfort, textures and creating a sense of being made completely at home.
Keep the bulk of your colour light. Balance is the key in bedroom design. For your base colour think more in terms of creams and ivory than white – the latter can be harsh and cold in a room designed to be warm and cosseting.
Build up your bed with layers of different fabrics, silk cushions, velvet headboards and 'fur' throws contrasting against crisp white sheets and duvet covers
Goose/Duck down duvets and Egyptian cotton sheets are much more accessible in terms of both price and availability these days - your guests will really notice and appreciate the effort.
Provide a side table or nightstand and reading lamp beside your guest's bed.
Try to create space in your spare room for your guest – a clear dressing table, free drawers and an area in a wardrobe in which to hang their clothes.
For further information about Mountain View, visit: Taylorwimpey.co.uk