Fiat Professional at the CV Show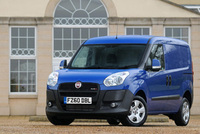 Fiat Professional will be exhibiting its impressive range of award-winning commercial vehicles at this year's Commercial Vehicle Show in Birmingham's NEC (12 April-14 April, 2011).
Taking centre stage on the Fiat Professional stand is Fiat's Doblò Cargo, voted International Van of the Year 2011. Also on the stand, making their UK debuts, will be an example of the recently introduced Euro 5 Fiorino range and the Punto Evo Van.
The full line-up of vehicles comprises:
Scudo Van L2H1 12Q – Comfort 2.0 MultiJet 120BHP
Ducato 35 Van 2.3 litre 120 MultiJet LWB HR
Ducato 35 Cab 2.3 Litre 120 MultiJet Diesel LWB Low Loader Plant & Go conversion by KFS Special Vehicles Ltd
Doblò Cargo Base 1.3 MultiJet 16v Diesel 90bhp
Doblò Cargo SX 1.3 litre MultiJet 16v Diesel 90 bhp
Fiorino Cargo SX 1.3 litre MultiJet Diesel 75 bhp Euro 5
Punto Evo Van 1.3 Dynamic MultiJet Diesel 95 bhp S&S Euro 5
Doblò Cargo Maxi SX 1.6 MultiJet 16v Diesel 105 bhp (Outside Display)
The new Doblò Cargo sits on an all-new platform that makes it a class leader in all the areas that matter most to professional drivers. Not only does it have greater carrying capacity than before in both weight and size terms, but new suspension ensures the ride is improved. And a new range of Euro 5-compliant engines makes it cleaner and cheaper to run.
Fiat Doblò Cargo is available with a choice of four low emissions, Euro 4 and 5-specification engines, and comes in seven different forms – Cargo, Cargo Maxi, Cargo SX, Cargo Maxi SX, Combi, Combi Maxi and Platform Cab – to offer solutions for a wide spectrum of van users.
Start&Stop – which stops the engine automatically whenever traffic conditions bring the van to a complete halt, and restarts it when the driver wants to move off again – is fitted on all Euro 5 versions to give up to 15 per cent fuel savings, and the vehicle range offers a low CO2 figure from just 126g/km.
The engine line-up comprises a 1.4-litre 16v 95bhp petrol unit and three MultiJet 16v diesels – 1.3 (90bhp), 1.6 (105bhp), and 2.0 (135bhp). Prices start at £11,395 (exc. VAT) for the Doblò Cargo 1.4 16v Petrol.
Joining the Doblò Cargo on the stand and making its UK debut is an example of the recently introduced Euro 5 Fiorino range.
A new 95hp 1.3 MultiJet diesel unit for Fiorino comes as standard with Start&Stop, and a diesel particulate filter (DPF).
Power, usability and economy are key features of the Fiorino's new 95hp engine. With this power output and 200Nm of torque at 1500rpm, the engine can take the Fiorino to a maximum speed of 106mph, yet it returns 65.7mpg economy on the combined cycle. CO2 emissions are just 113g/km.
Other Euro 5 engines in the Fiorino range include a 73hp 1.4-litre 8v petrol unit and a 75hp 1.3-litre MultiJet diesel. The 1.4-litre petrol version has maximum torque of 118Nm at 2600rpm. It has a top speed of 97mph, returns 44.1mpg (combined) and has a CO2 level of 148g/km. The 75hp 1.3-litre has 190Nm at 1500rpm, a top speed of 97mph, a 65.7mpg (combined) economy figure and CO2 of just 113g/km.
The Euro 5 engines are also available in the Fiorino Combi range, which features five seats (four on the commercial version) as well as van-like space.
Additionally, a new range called Adventure has been launched, to highlight the benefits of Traction+, an electronic differential lock system for improved grip and control when driving in mud, snow and other low-grip conditions, but with no impact on fuel economy or maintenance costs.
The Fiorino Adventure comes as standard with higher ground clearance, increased payload, 15-inch alloy wheels, under-engine, lower front bumper and side protection, and roof bars.
A wide choice of optional extras is available across the new Fiorino range, including alloy wheels, cruise control, additional 12V plug in the rear compartment, Fiat TomTom sat nav accessory, and an electric pack comprising central locking with remote deadlocks, automatic door closing at 3mph, electric mirrors and electric windows.
The Scudo range has recently been augmented by an economical Euro 5 163hp 2.0-litre MultiJet engine which, despite its high power and torque output, offers fuel consumption and CO2 emissions figures that are the lowest in the market for this segment.
Scudo's new Euro 5 163hp 2.0-litre engine has 340Nm of torque at 2000rpm, a top speed of 106mph, a 40.9mpg (combined) economy figure and CO2 emissions from 181g/km. The engine features in the Scudo Van, Panorama and Combi.
The Van and Combi receive, as standard, air conditioning, heated electric mirrors and ESP stability control. The Panorama version additionally gets alloy wheels as standard.
The Scudo range encompasses panel vans and platform cabs as a basis for conversion, and two commercial passenger vehicle variants, the 6 seat Combi and the 5 seat Panorama Family. Both can also be requested with a third row seating option providing a 9 seat combi or an 8 seat Panorama.
Scudo's car-like performance, its reliability, productivity, agility and comfort, coupled with a choice of three generous cargo areas, make it a versatile all-round winner. On the stand will be a 2.0 MultiJet 120BHP in Comfort Trim
Completing the line-up will be a Punto Evo Dynamic Van with a 1.3 16v MultiJet Diesel engine and two versions from the Fiat Ducato range - a 35 Van LWB HR and 35 LWB Dropside Cab – both equipped with a 2.3 litre 120 MultiJet diesel engine.
Gerry Clarke, Director of Fiat Professional UK, comments: "The Fiat Professional range of award-winning vehicles has been enjoying a high level of interest from customers and the media, and this is set to continue with the introduction of new environmentally friendly Euro 5 engines in the Fiorino, Scudo and Punto Evo Van."