Volkswagen Tiguan delivers vital aid to blood bike service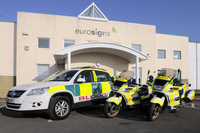 If you thought the National Health Service was responsible for the movement of blood as well as other vital medical fluids, test results and equipment, think again. As although the NHS has a good 'office hours' courier service, at evenings and weekends it depends heavily on a band of volunteers, or so-called 'Blood Bikes' to make it less reliant on expensive taxis, for example.
The Blood Bikes movement was 'founded' in 1969 when a youth community action group named Freewheelers began encouraging young bikers to use their riding skills to provide an efficient and reliable transport service to local hospitals. This initial group served hospitals in the Hertfordshire and Bedfordshire areas, carrying blood, drugs, plasma, diagnostic specimens and even human spare parts on occasions. Riders also delivered letters to doctors surgeries and collected spare breast milk from nursing mothers to take to the special care baby unit at the local maternity hospital. Over 40 years on, Blood Bikes still provides a vital service to hospitals, operating on a voluntary basis from a number of biking groups across the UK.
However there are places where bikes are not suitable – and for this reason the charity has bought a Volkswagen Tiguan 4x4 to enable it to access all areas and deliver in all weather conditions. The vehicle was purchased through Volkswagen UK and supplied via Heritage Automotive which has provided emergency lights, distinctive livery and is also servicing the vehicle to keep it in top condition.
Following the success of the first Tiguan in operation, Blood Bikes is now planning to acquire a second – which will be one of the new Tiguans, due in August. A team, led by Mike Burns, is doing a 1,200 mile cycle ride from one end of the country to the other in May, linking all 24 NHS Blood Centres nationwide to raise money for the new vehicle. Not only will this raise funds to purchase and operate the vehicle, but it is also intended to raise awareness of the importance of blood donation and the Blood Bikes service.
Mike Burns of Blood Bikes, commented: 'We've been really impressed with the Tiguan which helps us extend our service to more remote areas and in all weathers and for that reason we're really keen to acquire a second. We're grateful to Volkswagen and Heritage Automotive for their ongoing support and hope it will enable us to continue our life-saving work in the future.'
To find out more about Blood Bikes or donate to the charity, visit bloodbikes.co.uk.
For more information on the Tiguan and other Volkswagen products, go to volkswagen.co.uk.