Scirocco adds Parkers New Car accolade to trophy cabinet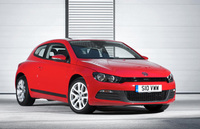 The Volkswagen Scirocco has won the Sports Car category of the inaugural Parkers' New Car Awards 2011, while a number of other models were also highly commended in their respective categories.
The Parkers' New Car Awards have been developed by car-buying site, Parkers, with the purpose of helping purchasers identify 'the cars that make your cash go further'. The winners, rather than being based on the opinions of a panel of judges, are determined through the data produced by Parkers' so-called 'cost of motoring' tool. This was launched at the beginning of the year, and is designed to enable consumers to identify the costs of a new or used car, taking into account all of the elements such as servicing, showroom tax, fuel consumption and depreciation.
Commenting on the award, Kieren Puffett, editor of Parkers says: 'A 1.4-litre engine may sound too small to deliver performance worthy of a sports car but this TSI engine is a gem with a sub 10-second 0-62 mph and top speed of 124 mph – plus you get all the economical benefits of a smaller engine including a claimed average 44 mpg fuel consumption and a road tax that costs £125 a year. So for delivering performance, fun and low costs the Scirocco is the Sports Car that makes the car buyer's cash go the furthest.'
He added: 'In addition to a sound cost proposition, the Scirocco 1.4 TSI 122 PS won the Parkers' New Car Awards 2011 Sports Car category because it has unique styling, really delivers as a sports car thanks to sharp handling and refined ride, and it's huge fun when tackling twisty roads.'
Volkswagen has always fared well on delivering highly competitive whole-life costs thanks to competitive purchase prices and running costs through fixed price servicing, plus consistently strong resale values. This was the basis of its recent 'Unbelievable Value' and 'True Life Costs' advertising campaigns which demonstrate the high value proposition of its vehicles.
For more information on Parkers' new car buying tool please visit parkers.co.uk or for further details on Volkswagen's range of vehicles, go to volkswagen.co.uk.