Chevrolet Cruze returns to defend BTCC title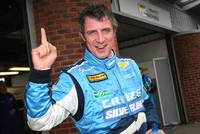 It won the BTCC Driver's Championship in its first full season, and now the Chevrolet Cruze is set to officially return to the Dunlop MSA British Touring Car Championship, with 2010 champion Jason Plato again as lead driver.
Supporting Plato in the Silverline Chevrolet BTCC team will be Alex MacDowall, at only 20 years of age the youngest confirmed driver in the series. Both drivers campaigned with Silverline Chevrolet in 2010, with the team once again run by the Wellingborough-based RML Group, which also prepares and campaigns Chevrolet's World Touring Car Team.
The BTCC cars for 2011 will be similar to the 2010 WTCC championship-winning Cruzes campaigned by Yvan Muller, Alain Menu and British racer Rob Huff, which stormed the global series to take both drivers and manufacturers' titles. A new livery, based on that of the WTCC cars, will be unveiled on March 24 at the BTCC Media Preview Day.
Jason Plato said: "I'm delighted to once again be working with Silverline Chevrolet and RML. The team proved last year that it could provide the hardware to win the championship, and with a newer and more advanced development of the already incredible Chevrolet Cruze to campaign with, I expect we'll be in for a dramatic and exciting season."
On his title hopes for 2011, Jason added, "Will I win the championship again? I wouldn't be here if I didn't think it was possible – but there are some other good teams out there who have come on leaps and bounds since last year, meaning we're in for one of the most competitive seasons ever – great news for fans of the best racing series in the UK, and for the drivers who compete in it. It's going to be a thriller."
With less than a month to go before the season kicks off, last year's fans' favourite for 'Rookie of the Year', Alex MacDowall, himself a pole-sitter and podium visitor in 2010 is on fighting form ahead of what will be only his second season in the BTCC. He said: "Last year was a big learning curve for me. I achieved some great results and in 2011 I'm confident I can really build on that and achieve my first BTCC win , especially with a car as good as the Cruze, a team as professional as RML and a team mate as experienced as Jason to work alongside."
Chevrolet UK Managing Director, Mark Terry, commented: "In 2011, Chevrolet celebrates its centenary year, and right from the start, racing has been part of the brand's DNA. Having won the driver's championship in our first full year – a truly remarkable achievement – we're back for more in 2011.
"What's more, with a new five-door variant of the Cruze just around the corner and a raft of new models, including the Orlando MPV, New Captiva and New Aveo to launch, we're going to be extremely busy both on and off the track. As a platform with which to generate interest and support for our range of fabulous new cars, BTCC is a perfect partner, and I look forward once again to seeing the Cruze fend off its rivals on track. We've a great team and a brilliant driver line-up – it's going to be a fabulous season, with plenty of action for fans both trackside and watching on the television."
For 2011, the BTCC gets extra TV footage courtesy of ITV Sport, which will be broadcasting live from all 10 rounds of the series on ITV4 and ITV4 HD, its new High Definition channel. It will be showing highlights programmes on its ITV1 and ITV4 stations, as well as online via ITV Player.
The first round of the Series takes place on Sunday April 3 at Brands Hatch, Kent – the venue of Jason Plato's 2010 title victory, with TV footage from 10.30am. Ticket prices are £25 for adults, with free tickets for children under the age of 12.
Meanwhile, the new Silverline Chevrolet racing livery, and a full list of partners, will be announced at the BTCC Media Day on March 24th.
To keep up with developments within the team, and for all the latest news, visit chevroletbtcc.co.uk.