£30,000 reason to buy a new home in Hailsham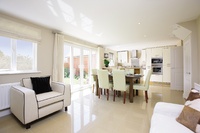 Easy to maintain and efficient to run, new Redrow homes in Hailsham are streets ahead of properties available on the second hand market.
The award-winning housebuilder has calculated that it costs around £30,000 to bring an older three-bedroom property up to the same high standard of one of its stylish New Heritage Collection homes at Willow Gardens.
These highly distinctive, 'Arts & Crafts' influenced properties have traditional looking exteriors with period-style features but boast a superior interior specification unseen in most new homes, never mind the second hand sector.
Beryl Williams, area sales manager for Redrow Homes (Eastern) explained: "Savvy buyers understand that while and older property could come with a slightly smaller price tag, it may need lots of repairs and renovations. The cost of installing a new kitchen, appliances and bathrooms plus energy efficient heating, replacement windows and a whole host of other features soon adds up.
"By purchasing a new home instead of an older second hand property, house hunters could save themselves a small fortune in DIY costs not to mention time and energy."
Designed with 21st century living in mind they are full of family friendly features including en-suite to master bedroom and convivial open plan layouts that puts the kitchen at the heart of the home. The three on-site show homes give buyers the chance to see all of this and more.
"Our kitchens boast the convenience of integrated top brand name appliances with tall units and extra wide drawers that offer plenty of storage. If you were to install the same high quality fixtures, fittings and appliances yourself it would cost more than £6,000, plus you would have the inconvenience of not being able to use your kitchen while the work is carried out," Beryl commented.
"With this in mind our homes at Willow Gardens, offer the ideal solution for those who want an easy life. Our customers can enjoy the peace of mind knowing that their new home is covered by a 10-year Buildmark warranty; while the appliances are also covered by a two-year manufacturers' warranty."
Designed to maximise efficiency, properties at Willow Brook are well insulated, with central heating and double glazing included as standard. And because on average new Redrow homes are 40% more energy efficient than properties built just 10 years ago, customers won't have to crank up the heating to keep warm in the winter but should save money on their utility bills.
As well as reaping all of these benefits, buying new lets you take advantage of developer incentives such as HomeBuy Direct.
Purchasers of selected three-bedroom homes at Willow Gardens could take advantage of the scheme, which provides an equity loan for up to 30% of the purchase price, jointly funded by Redrow and the Homes & Communities Agency. Eligible customers with an annual household income less than £60,000, including first time buyers, those starting over after a relationship breakdown, or families who can prove they need the extra space, can apply for the loan. It is interest-free for the first five years and can be repaid when you have more funds available or come to resell.
With HomeBuy Direct a three-bedroom 'Broadway' home, usually costing £214,950, can be snapped up for an initial outlay of less than £150,465.
Four-bedroom homes are also available priced from £309,950.
Located on the A22, just eight miles from Eastbourne, about 25 miles from Royal Tunbridge Wells and a similar distance from Brighton, Willow Gardens is well placed as a base for commuters, but has plenty of amenities nearby in Hailsham itself.
For more details, visit the three fabulous show homes, open daily from 10am to 5.30pm.