MINI Countryman wins Parkers New Car Award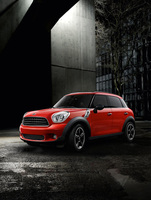 MINI's newest addition to its ever growing family has just scooped its first award. The MINI One D Countryman has been named 'Best Crossover of 2011' by car buyers guide Parkers.
Since it went on sale in September 2010, MINI Countryman has seen orders in excess of 5,600, with the Cooper D model being the most popular this year. In 2011 MINI Countryman already accounts for almost 30% of all MINI sales in the UK.
The MINI Countryman offers an unbeatable mix of MINI's unique driving experience, low running costs, class leading residual values and bench mark CO2 emissions, and couples it with all of the practicality of a crossover vehicle.
Jochen Goller, Director MINI UK said, "We are delighted to receive this award, it is a prestigious endorsement for the MINI Countryman. The extra space and ALL4 option break new ground in MINI's 51 year heritage. With Countryman prices starting at £16,340 OTR and a very high standard specification, we have introduced more MINI piquancy into the crossover market."
Commenting on the Crossover Award, Kieren Puffett, editor of Parkers says, 'The MINI One D Countryman won the Parkers' New Car Awards 2011 Crossover category because it carries the traits of the MINI including fun handling and mixes in four-wheel drive and a huge dose of practicality thanks to the Countryman's larger size. It also makes a major impact when it comes to costs. The low entry-level prices and excellent residual values mean the Countryman offers tremendous value for money. Thanks to the 1.6-litre diesel engine running costs are also low with a claimed average of 64mpg and road tax that costs just £30. It is a hugely competitive package and is clear to see why the MINI One D Countryman is the Crossover that makes the car buyer's cash go the furthest.'