Insignia Sports Tourer clinches top award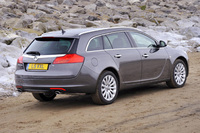 Parkers, the UK's best-selling car price guide, has named the Vauxhall Insignia 2.0 CDTi 160 ecoFLEX Exclusiv its Family Estate Car of 2011.
What makes this victory even more flattering is Parkers' New Car Awards are based on facts, powered by their 'cost of motoring tool.' Launched at the beginning of the year, the tool identifies the true costs of servicing, VED, fuel consumption and depreciation.
With motorists feeling the pinch, customers are more value-conscious than ever before and the Insignia Sports Tourer ecoFLEX offers stylish looks coupled with value-for-money.
Kieren Puffet, Editor of Parkers said: "The Vauxhall Insignia won the Parkers' New Car Awards 2011 Family Estate category because it is a stylish estate, exudes quality and comes with many practical features to please owners. What really impresses is that it proves delivering on a big, spacious estate doesn't have to mean expensive bills."
With an average fuel consumption of just 55.4mpg combined, the Insignia Sports Tourer ecoFLEX can save families money on fuel when costs at the pump are at an all time high.
The Parkers award will stand proudly next to the 2009 European Car of the Year award, that the Insignia won for its design, quality and technical innovation. The jury members were impressed by the richness of equipment, including FlexRide suspension and Adaptive-Forward Lighting.
With some 40 other awards bestowed upon it, it's no surprise that UK buyers made the Insignia the best-selling mid-size car soon after its launch in what is Europe's biggest single market for the model.