April launch for new East Cowes development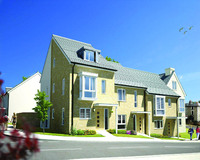 David Wilson Homes' latest Island development is ready to launch to the public on April 16 and expects interest to be high in its new homes.
The East Cowes development follows the housebuilder's success with its Carisbrooke Grange development in Newport which currently has just one home remaining.
Victoria Walk demonstates David Wilson Homes' commitment to the Island offering locals training, jobs and vital housing using Island product.
The development will offer one, two, three and four bedroom homes offering something to suit every buyer from first time buyers and couples to growing and established families.
David Wilson Homes' sales director Mark Docherty said: "We're delighted to be creating another development on the Island and are committed to satisfying the housing need in the East Cowes area.
"Victoria Walk will offer beautiful, spacious, modern living for every buyer providing sought after homes in a great location.
"Our Isle of Wight developments are always extremely popular and we've already received a lot of interest in Victoria Walk, despite not opening sales yet."
David Wilson Homes is proud that Victoria Walk will be constructed using a variety of materials from the Island, performed by either locals as part of its dedicated training Academy or recruited as a local supplier to Barratt.
All homes will meet Level 4 of the Code for Sustainable Homes, Lifetime Homes and Building for Life (Silver Standard). Level 4 homes have to be 44 per cent more energy efficient than one built to the 2006 Building Regulations standards.
Barratt construction director Jon Green said: "Code 4 homes not only benefit people who will live in the homes but also other partners involved. They will benefit from lower running costs through greater energy and water efficiency.
Benefits such as rainwater holding facilities/sustainable drainage will be used to provide attenuation of water run-off to either natural water courses or municipal systems.
All homes at Victoria Walk will be 'Lifetime Homes' which are normal homes but incorporate certain design criteria. Each feature adds to the comfort and convenience of the home and supports the changing needs to individuals and families throughout their lives. The homes are designed specifically to be flexible and adaptable, so for example there could be an area for a lift to be installed and the ground floor could be adapted to live in, if necessary.
The nearby yachting town of Cowes offers a wide variety of amenities including schools, shops, pubs and restaurants. Near to the River Medina and a local mooring site, Victoria Walk lies on the eastern edge of Cowes and offers the perfect retreat for yachting enthusiasts. There is easy access to the rest of the island and to the mainland via the excellent ferry links.
For further details and information and to register for your priority launch invitation please call the sales team, log onto: dwh.co.uk