New for walkers this summer - Tour du Mont Blanc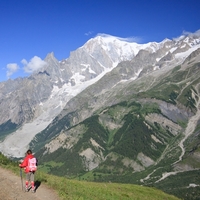 Trekking holidays company Walks Worldwide has just introduced a brand new itinerary for summer 2011: Tour du Mont Blanc.
Most Mont Blanc treks are from 11-14 days and are only available as part of an organised, small group. The unique thing about this new trip is that it is just 8 days long and is self-guided for two or more people travelling together, and includes all the very best parts of the classic Alpine circuit.
Walking through France, Switzerland and Italy the Tour Mont Blanc is perhaps the most iconic and famous of all walks in the Alps. This circuit of Mont Blanc affords spectacular views at every point and is quite simply a 'must' for all mountain walking enthusiasts.
Crossing renowned alpine passes the route takes you beneath glaciers, through valleys and across summer meadows and is of course accompanied by breathtaking mountain panoramas. Star of the show is Western Europe's highest peak, Mont Blanc, which at 4807m is the 'Monarch of the Alps'.
The best of this world famous circuit can be completed within a one week holiday. This isn't back-packing either. Your main baggage (with the exception of one night) is transferred to each of your overnight accommodations meaning you can enjoy this classic trek unencumbered, carrying only your usual day pack.
The holiday can start on any day between July and September and costs from £595 pp. This includes 7 nights' accommodation (hotels, auberge and mountain huts), some meals (7 breakfasts, 5 dinners), route notes, maps and luggage transfers.
For more information and reservations, visit: walksworldwide.com