Suzuki and HBC Motorcycles arrive in Nottingham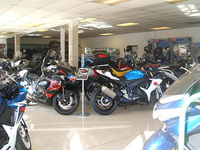 HBC Motorcycles is delighted to announce the opening of a new 4,500 sq ft authorised Suzuki dealership in Nottingham, ideally located close to the main A52 to serve customers in the Nottinghamshire and Derbyshire areas.
Located on Triumph Road in Nottingham, the newly refurbished site offers full dealer facilities with sales and technical departments on-site, offering customers a complete and efficient Suzuki service.
Dealer Principle, Steve Powis, said: "Although the motorcycle industry has suffered in recent years, we are seeing a resurgence in demand and looking forward to a fresh new start. With the recent launch of the GSX-R600, GSX-R750 and the GSR750, we have some great new product and even more reasons for motorcycle fans to drop in and pay us a visit. With test rides available and Suzuki's latest competition to win an experience of a lifetime, by simply visiting us and uploading a photo of yourself to enter, there really are many good reasons to pay us a visit and check-out our new facility."
Following the move, HBC is now recruiting staff for their sales and technical departments with a view to recruiting further staff over the summer months.
HBC Motorcycles Ltd can be contacted at:
2 Triumph Road, Nottingham, Nottinghamshire. NG7 2GA
Tel: 0115 837 0042