Citroen lovingly sponsors Brighton Festival Fringe 2011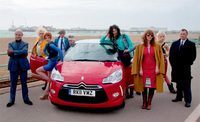 Citroen is to be headline sponsor at the 2011 Brighton Festival Fringe, supporting creative talent at the third largest open access arts festival in the world.
The three-week long event in May showcases the talents of both amateur and established performers across multiple art forms including comedy, theatre, music and dance. This year the festival will feature 600 events across 180 venues, with a total expected attendance of 180,000.
Michael Bedingfield, Brighton Festival Fringe Director commented: "Confirming Citroen as headline sponsor for 2011 provides a platform for this year's Fringe to be better than ever. Citroen's green credentials, independent spirit and history of innovation are a perfect match for the Fringe."
Linda Jackson, Citroen UK's Managing Director added: "We're thrilled to be supporting the Brighton Festival Fringe and we're looking forward to bringing a bit of fun, flair and individuality along for the occasion. Citroen is driven by exciting ideas and creativity. This is a fantastic opportunity to support others with those same ambitions."
The partnership will extend beyond a simple sponsorship agreement, with Citroen taking part in a variety of unique and exclusive open access performances throughout the duration of Brighton Festival Fringe.
Visitors will also have the opportunity to enjoy a test drive in Citroen's new all-electric city car, C-ZERO, which provides a stylish, environmentally considerate and economically viable solution to the increasing challenges of urban mobility.
The Brighton Festival Fringe runs from 7 - 30 May and tickets are on sale now. For more information please visit brightonfestivalfringe.org.uk.