Partnership gives Jet2.com new recruits their wings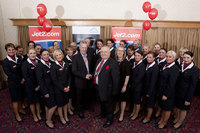 Jet2.com has celebrated the start of an exciting partnership with Newcastle College by presenting 25 of its trainee cabin crew with their 'wings'.
The Wings Ceremony, which was held at the Britannia Hotel, marked the completion of a new bespoke training programme for the 25 employees, which has been delivered in the college's state-of-the-art Aviation Academy based at Newcastle International Airport.
Jet2.com managing director, Ian Doubtfire, attended the ceremony along with the college's Director of the School of Lifestyle, Greg Smith. Mr Doubtfire presented employees with their wings and congratulated Newcastle College Lecturer, Sue Gelson, who has completed the first stage in qualifying as a trainer able to deliver the training to Jet2.com new recruits and seasonal cabin crew of the future.
The partnership between Newcastle College and Jet2.com developed through the college's strong links with Newcastle International Airport. Jet2.com is continuing to grow, adding exciting new city, sun and ski routes and increased capacity across all of its eight bases, resulting in the need to expand its first-class training for the growing number of cabin crew. The new cabin crew will be based across the airline's bases at Newcastle, Edinburgh and Glasgow airports.
The college developed the New Entrant Cabin Crew Training Course in partnership with Jet2.com to ensure that it fits in with the requirements of the business and equips employees with the rounded skill set required for the role. The training covers areas such as an introduction to the aviation industry, standard operating procedures, emergency procedures including fire-fighting and an in-depth knowledge of First Aid and Customer Service Excellence, the training is in accordance with Civil Aviation Authority requirements and fully regulated.
Greg Smith, Director of the School of Lifestyle at Newcastle College, said: "Our partnership with Jet2.com represents a major milestone in the relationships we have built with the airport and employers to ensure that we offer the widest range of training and higher-level skills required in the travel and tourism industry.
"We have worked closely with Jet2.com to develop a training programme which delivers exactly what they need to strengthen the business and also is flexible enough to fit in with the various demands they have for trained cabin crew. Alongside this we are looking to further develop the partnership to create employment opportunities for our existing students. We are delighted to see the first group receive their wings and congratulate them on their success."
Ian Doubtfire added: "We are delighted our partnership with Newcastle College has got off to such a great start. It is always a pleasure to see a new group of Jet2.com cabin crew receiving their wings and we congratulate them all and welcome them to the team.
"Cabin crew are central to our business and play a hugely important role when it comes to the friendly customer service that we pride ourselves in offering. The training they receive is therefore vital to equip them with the necessary skills to help their career take off, and so they can immediately offer our passengers the quality experience they have come to expect. As an airline we are continuing to grow rapidly and have a steady stream of recruitment taking place, so we look forward to this being the start of a strong new partnership with Newcastle College."
Graeme Mason, Planning and Corporate Affairs Director at Newcastle International Airport, said: "We're extremely proud of our relationship with Newcastle College, whose facilities at Newcastle International Airport lead the UK in producing the future players of the aviation industry. This new partnership with Jet2.com bolsters the airline's investment in the region which is very encouraging news. We look forward to working with the new recruits in the future."