ICON-ic Somerset development is recognised for excellence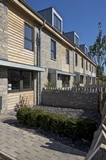 An ICON-ic eco-development in Street, Somerset, has been commended for excellence in the built environment at the 2011 Civic Trust Awards, which recognise the very best in architecture, design, planning, landscape and public art.
Crest Nicholson's ICON development beat off fierce competition from more than 300 national and international entries, and was one of only two projects in the South West to be commended by the Awards Scheme, which has been running for more than 50 years.
ICON won the accolade after improving the quality and appearance of the local environment in Street and for its architecture, design and sustainability, which has resulted in a positive social, cultural, environmental and economic benefit to the local community.
The development, which is built on the site of the former Clarks Shoe Factory, is an ambitious collection of 138 homes, comprising both affordable and low cost market housing. It includes one and two bedroom apartments and two, three and four-bedroom homes - 95 per cent of which have already been snapped up since its launch.
The site was recognised for its imaginative landscaping and large areas of open space, which have provided usable, safe and welcoming areas for the community to enjoy, with priority given to pedestrians and cyclists over vehicles.
The development, which was designed by Feilden Clegg Bradley Studios and landscaped by Grants Associates, has pride of place in Street. Properties have been built from an interesting mix of materials and boast a wide range of eco-features including solar thermal panels, hot water sealed cylinders and heat recovery and rain water drainage systems.
Laura Osborne, Sales Manager for Crest Nicholson said: "ICON is one of our most impressive and innovative developments, which accounts for the sheer number of awards the development and its sales staff have achieved since its launch. We are very pleased to receive a commendation from the Civic Trust Awards, as this demonstrates we have achieved excellence through ICON and we encourage buyers to come and visit our sales staff to see how they can be part of this award winning development."
Prices at ICON currently start £99,950 for a one bedroom apartment and range to £269,950 for a four bedroom home with double garage.
For further information, please call into the on-site sales and marketing suite, which is open daily from 10am to 5pm.