Chevrolet unveils 2011 BTCC cars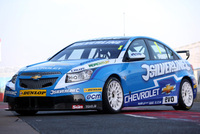 The wraps are off the Silverline Chevrolet team's 2011 cars, set to campaign in the Dunlop MSA British Touring Car Championship.
Built by RML, which also constructs and runs the title-winning Chevrolet World Touring Cars, the two new Cruzes will campaign in the 2011 BTCC series with the same successful driver line-up as 2010; driver's champion Jason Plato and promising young gun, Alex MacDowall.
The cars feature a bold new livery, consistent with that of the WTCC cars, and featuring prominent sponsorship from Silverline, as well as series sponsors Dunlop, Holiday Inn, Auto Express and Evo.
Also backing the cars are paint supplier DuPont, ECM Vehicle Logistics and Tesco Momentum 99 Octane fuel. Championship-winner Plato also carries additional sponsorship from Britain's biggest-selling newspaper, The Sun.
Unveiling the cars at the BTCC Media Launch at Silverstone, Northants, RML Group's Sponsorship Director, Rupert Mainwaring, said: "It's great to see the Silverline Chevrolet team getting such great support – it shows the broad appeal of the country's most exciting motorsport series, and gives us a great boost as we head into what promises to be the BTCC's most competitive season ever."
In 2011, the series sees a record grid, with 27 cars confirmed and 13 different models of car. As well as the manufacturer-backed Silverline Chevrolet team, a further three Chevrolets are running as privateer entries – proof that the brand's racing DNA runs deep through motorsport.
Chevrolet Managing Director, Mark Terry, said: "Last year I had great pride in seeing the Chevrolet Cruze winning the BTCC driver's title in its first full season, and this year I can't wait to once again see the Cruze leading rival models around the track. We've got a great team behind us, and we're extremely excited about our prospects for 2011. It's Chevrolet's centenary year, we have four major new model launches, and it's important that our long tradition of motorsport is part of what will be one of the most significant years in our company's history."
Both drivers have now tested the 2011 BTCC Cruze ahead of the season opener, and are extremely positive about the car's prospects.
"It's even better than last year's car," said Jason Plato. "And we won the championship in that!"
20-year old Alex MacDowall, competing in his second season in BTCC, added: "I'm thrilled to be driving for Silverline Chevrolet again, and the car feels brilliant. Last season was a learning curve for me – it's fair to say nerves got the better of me a couple of times – but this year I'm much more comfortable and much more confident. I'm hoping for some good results, and hopefully a couple of wins."
The series will also benefit from additional TV coverage in 2011, announced at the media day. As well as the usual live raceday coverage on ITV4, the station will be broadcasting high definition coverage on its new ITV4 HD Channel, while live qualifying coverage will be streamed live from the ITV Sport website.
The first race of the season is on Sunday April 3 at Brands Hatch, Kent. For more information, and regular updates on the Silverline Chevrolet team, visit chevroletbtcc.co.ukor follow the team's Facebook page at facebook.com4/chevroletbtcc