Environment Agency goes pure electric with Mitsubishi i-MiEV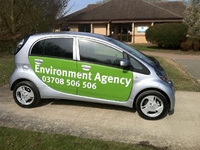 After decades of experimentation, innovation and trials, the future of motoring is here and today sees the Environment Agency take delivery of its first pure-electric vehicle (EV) in a bid to reduce the organisation's carbon footprint. The event coincides with Climate Change Week which is aimed at demonstrating what can be done by businesses and individuals to reduce CO2 and to encourage more people to act on climate change.
The Mitsubishi i-MiEV, which is contract hired through Hitachi Capital Vehicle Solutions, is being delivered to its office in Brampton today for staff to drive whilst they go about their normal work.
John Orr, Environment Manager for The Environment Agency said:
"This is a really exciting development and I am thrilled that the Environment Agency's first electric vehicle should be coming to Brampton. I am really keen to explore the potential of the vehicle and to get comments from our staff about what they think of it once they've used it in their normal work."
In the Environment Agency's fight against climate change it is working hard to reduce the organisation's own emissions and hopes the Mitsubishi i-MiEV will make a significant contribution.
Mark Ford-Powell of Environment Agency Fleet Operations added: "Over recent years we have seen technology in cars improve resulting in many low CO2 cars on the road and on our fleet. The introduction of an electric car to our fleet will provide us with further CO2 savings and the opportunity for us to measure the long term suitability of operating an electric car."
Key Advantages
The Mitsubishi i-MiEV is the lowest priced mass-produced pure-EV available in the UK. Along with excellent contract hire, additional finance packages, and ultra low running costs, the i-MiEV becomes a very strong environmentally friendly proposition.Key advantages over more traditional vehicles are:
Fuel cost only £270 for 12,000 miles driving (£2.09 per full charge based on an average of £0.10 per kWh)
If using an Economy 7 tariff, this cost could be as little as £135 for 12,000 miles' driving (£1.05 per full charge based on an average of £0.05 per kWh)
Low servicing costs and downtime – only approximately 4 working parts compared to over 300 in a typical internal combustion engine
Exempt from road tax
First year capital allowances for fleet vehicles
Zero benefit-in-kind company car tax
Exempt from London Congestion Charge
Free parking in some London boroughs and cities such as Milton Keynes and Edinburgh
Strong residual values
Independent advisors CAP have predicted the Mitsubishi i-MiEV will retain 43% of its on the road price after the £5,000 government incentive P-ICG and after three years and 30,000 miles which is better than most combustion engine rivals.
Safety – 4* Euro NCAP
Safety is very important for the Environment Agency and the i-MiEV comes fitted as standard with a full compliment of safety systems to help prevent and reduce the effect of any impact. In recognition of its on-board safety features, the Mitsubishi i-MiEV has become the first electric vehicle to be crash-tested by the renowned Euro NCAP organisation: a milestone further enhanced by a 4-star rating under NCAP's new, and highly stringent protocols.