Citroen C-Zero meets the Mayor of London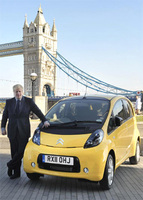 The acclaimed Citroen C-Zero, the brand's new 100% electric city car, met London's Mayor, Boris Johnson, earlier this week. The city is gearing up to become the "electric car capital of the world" under the auspices of the first ever city-wide electric vehicle charging network - Source London - to launch this spring.
Source London (sourcelondon.net) is set to improve the driver experience by providing better infrastructure and support for electric vehicles. At present there are more than 250 charge points across the capital, which Source London has committed to expanding to at least 1300 publicly accessible points by 2013.
With a maximum fully-charged range of 93 miles, Citroen's C-Zero is already capable of cutting through the London traffic. Citroen's research shows that the average daily journey in urban areas is 23 miles, with the car at rest for 92% of each day - creating numerous recharging opportunities.
Boris Johnson, Mayor of London, said; "Through the development of Source London we are seeking to create the fertile conditions for electric vehicles to flourish, to make our city the electric driving capital of Europe. This is in support of the expanding range of electric cars coming to market and will deliver a range of environmental benefits in terms of pushing down on pollution in London."
"C-Zero is perfectly placed to demonstrate the benefits of switching on to electric power," said Linda Jackson, Managing Director of Citroen UK. "By offering zero emissions while running, owners incur zero company car tax, zero Vehicle Excise Duty and zero London Congestion Charge. We are delighted to see the Citroen C-Zero take its place at the start of an exciting new era for London."