Poole Quarter switches off with global Earth Hour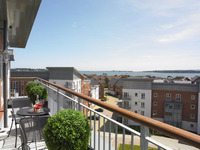 For the third year in a row award winning developer Crest Nicholson joined people, businesses, communities and governments across the world to support the WWF's global Earth Hour campaign.
At 8.30pm on Saturday 26th March, the developer ensured all non-essential lights across more than 50 sites around the UK, including Poole Quarter in Poole were switched off in support of the initiative, and is encouraging its residents to do the same.
The international blackout was part of a worldwide movement to raise awareness of climate change and encourage the building of a more sustainable future. In 2010 a record 128 countries joined in the initiative and by taking part for another year, Crest Nicholson hopes it demonstrated the simple measures that can be taken towards reducing the impact our energy usage has on the environment.
As Chris Warner, Sales & Marketing Director for Crest Nicholson South, explains: "Earth Hour encourages us to take responsibility for our carbon footprint and the effect it is having on the planet. Even the simplest lifestyle changes can make a difference and that's something that we encourage staff and residents to do at all of our developments. At Poole Quarter, for example, we have introduced environmentally aware features such as a fuel efficient car club and lift share scheme."
Poole Quarter comprises an impressive selection of one, two and three bedroom apartments and luxury penthouses. The impressive development is positioned in the perfect location for water sports enthusiasts, with sailing, jet-skiing and windsurfing hotspots on its doorstep. Furthermore, it is close to shopping facilities, restaurants, a leisure complex and is a short distance to the local train station.
Chris Warner adds: "Whilst we always ensure non-essential lighting is turned off out of working hours, this year we also encouraged our residents to do the same and by co-ordinating with thousands of other people and switching off the lights simultaneously we not only helped to make a strong visual statement, but it is also a direct reflection of our commitment to reduce carbon dioxide emissions arising from our own office and site activity by 25% by 2020. Turning out lights is one of the most immediate and practical steps that everyone can take towards reducing their impact on the environment, and the WWF's Earth Hour is an exciting international campaign encouraging this."
Crest Nicholson has emerged as one of the UK's leading housebuilders in terms of responding to the challenges represented by climate change. In 2010's NextGeneration survey* the developer was commended for its focus on creating integrated and cohesive public environments, thanks to the provision of open space and community facilities which instil a wider sense of social and community engagement within their developments. In November 2009, the company was named 'Sustainable Housebuilder of the Year' in the Housebuilding Innovation Awards, having already won the same category in the Sustainability Awards in 2008, and is committed to delivering on the government's targets to achieve more efficient, more sustainable housing.
Prices at Poole Quarter start from £158,000 for a one bedroom apartment and £197,000 for two bedrooms. Three bedroom apartments are available from £240,000 and penthouses start from £350,000. Crest Nicholson is even giving a helping hand to first time buyers with its EasyBuy scheme - where purchasers can own 100% of their new home but only pay 80% of the price now. Under the scheme, buyers can purchase a one bedroom apartment at Poole Quarter from only £126,400 and a two bedroom from £157,600.
For more information, please visit the Sales and Marketing Suite at Poole Quarter which is open daily (10am – 5pm).