Carmarthenshire County Council unveil Mitsubishi i-MiEV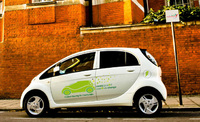 Mitsubishi Motors in the UK is delighted to announce that Carmarthenshire County Council will be the first authority in Wales to unveil their two new Mitsubishi i-MiEVs today.
The vehicles are funded as part of a £500,000 sustainable transport improvement plan for Carmarthenshire, paid for by the Welsh Assembly Sustainable Travel Centres funding. The two liveried Mitsubishi i-MiEVs will be used by the council staff as part of its co-ordinated pool car system.
Carmarthenshire was one of only four areas in Wales to secure the funding, which has paid for a series of improvements including walking, cycling and public transport infrastructure. The Council's Transport Manager, Stephen Pilliner, said:
"We are pleased to be able to lead on the introduction of electric powered pool cars that will provide a facility for officers to travel by more sustainable forms of transport for work related travel journeys."
The launch of the electric vehicles in Carmarthen creates a link with the Government's recent announcement that Wales has been awarded Low Carbon Economic Area (LCEA) status. Cllr Philip Hughes, an executive board member for Carmarthenshire Council Transport Services, said:
"We are proud to be the first local authority in Wales to use electric cars as part of our fleet. It not only proves our commitment to the use of sustainable resources, but will cut down on our carbon emissions and also our fleet fuel costs − it's a win-win situation all round."
The i-MiEV was launched in Japan in 2009, and is the first pure-electric (EV) vehicle available to the world markets in regular series production from a major manufacturer. It boasts top accolades, including Electric Vehicle of the Year 2009 and 2010 by GreenFleet Award.
Key Advantages
The Mitsubishi i-MiEV is the lowest priced mass-produced pure-EV available in the UK. Along with excellent contract hire, additional finance packages, and ultra low running costs, the i-MiEV becomes a very strong environmentally friendly proposition. Key advantages over more traditional vehicles are:
Fuel cost only £270 for 12,000 miles driving (£2.09 per full charge based on an average of £0.10 per kWh)
If using an Economy 7 tariff, this cost could be as little as £135 for 12,000 driving (£1.05 per full charge based on an average of £0.05 per kWh)
Low servicing costs and downtime – only approximately 4 working parts compared to over 300 in a typical internal combustion engine
Exempt from road tax
First year capital allowances for fleet vehicles
Zero benefit-in-kind company car tax
Exempt from London Congestion Charge
Free parking in some London boroughs and cities such as Milton Keynes and Edinburgh
Strong Residual Values
Independent advisors CAP have predicted the Mitsubishi i-MiEV will retain 43% of its on the road price after the £5,000 government incentive P-ICG and after three years and 30,000 miles which is better than most combustion engine rivals.
Safety – 4* Euro NCAP
Safety is very important to Carmarthenshire County Council and the i-MiEV comes fitted as standard with a full complement of safety systems to help prevent and reduce the effect of any impact. In recognition of its on-board safety features, the Mitsubishi i-MiEV has become the first electric vehicle to be crash-tested by the renowned Euro NCAP organisation: a milestone further enhanced by a 4-star rating under NCAP's new and highly stringent protocols.