Unichip enhances TDV6 twin-turbo Range Rover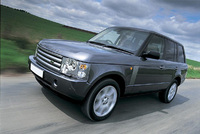 Unichip Europe, producer of the performance enhancing Uni-Q piggy back ECU, is delighted to announce a new 'U-Connect' product launch for the popular Range Rover 3.0-litre TDV6 twin turbo diesel model.
The Unichip Uni-Q piggy back ECU works by intercepting the signals from the Range Rover's factory vehicle sensors, which are channelled through the Uni-Q ECU to allow the engine's fuelling and turbo boost to be remapped with a high degree of control – and performance.
Supplied pre-programmed with revised ECU settings that are designed to enhance the performance of the Range Rover's 2993cc, twin turbodiesel powerplant, the Uni-Q piggy back ECU is a DIY fitment via its plug and play 'U-Connect' wiring loom, allowing for easy installation (or removal) in minutes.
Unlike an OBD 'flash' remap the Uni-Q leaves no electronic footprint. It is 'invisible' to Land Rover / Range Rover main dealers and cannot be detected or overwritten during servicing. To ensure it is totally tamperproof, the Unichip can only be remapped by one of Unichip Europe's 35 UK dealers. If, at a future stage, owners add mechanical modifications, the Uni-Q can be remapped to suit, or at a later stage, the unit can be removed from the vehicle and sold on, unlike an OBD reflash.
Dyno testing at Unichip Europe's Oxfordshire based premises has proven that the Unichip Uni-Q produces a performance gain of 22 bhp, increasing the Range Rover 3.0-litre TDV6's power from a measured 259 bhp to 281 bhp at 3031 rpm.
Meanwhile peak torque jumps from a measured 502 lb.ft to a mighty 525 lb.ft at just 2241 rpm, highlighting the Unichip enhanced Range Rover's low speed pulling ability. This translates into improved low speed performance for towing, caravanning, off-road performance and overtaking.
Critically, this additional performance doesn't come at the expense of the Range Rover 3.0-TDV6's 30 mpg combined fuel economy. Tests have proven that thanks to a combination of the increased low speed torque and efficiencies realised by the refined Unichip Uni-Q ECU map, the Range Rover's fuel economy is unaffected by the Unichip U-Connect package.
Available now directly from Unichip Europe, priced at £423.15 excluding VAT and carrying part number ppLAN11.0 the Unichip U-Connect suits all Range Rover 3.0-litre TDV6 models produced from September 2009 onwards.
For more details, visit unichipeurope.co.uk.