Outstanding first quarter at Park Central in Birmingham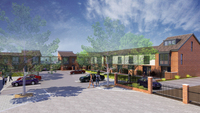 Crest Nicholson has reported outstanding first quarter sales at Park Central in Birmingham city centre with 24 properties sold since January.
The best first quarter figures since 2007, Park Central has continued to attract house hunters over the winter months cementing its position as the fastest selling Crest Nicholson development in the UK. Visitor levels at the development have fallen by 15 per cent compared to 2010, however the conversion from visitor to purchaser is up, perhaps testament to the rising popularity of shortlisting properties online before visiting a development.
With the recent termination of the government backed HomeBuy Direct, Crest Nicholson has introduced EasyBuy, its own shared equity scheme to support purchasers looking to make their first step onto the property ladder at Park Central. Celebrating the success of first quarter sales, the developer is hosting an EasyBuy open weekend on 9-10 April to showcase the value of the scheme to house hunters while also allowing visitors to explore the development and its showhomes in more detail.
Ruth Williams, sales manager for Park Central commented: "We are delighted to have secured so many first quarter sales in what remains a constrained property market. This is the best start to a year that we have had since 2007 and one we hope to build on as the year progresses. Sales to date have included one and two bedroom apartments plus two and three bedroom townhouses with purchasers ranging from first time buyers to downsizers. The range of properties available here combined with our purchaser assistance schemes such as EasyBuy has helped us to match house hunters to their perfect properties at affordable prices and we hope the upcoming EasyBuy weekend will encourage more house hunters to visit Park Central and discover the lifestyle they could be enjoying here."
Homes currently available through EasyBuy at Park Central start from £148,000 for a two bedroom apartment meaning a new home could be secured for a five per cent deposit of just £7,400. With EasyBuy purchasers pay just 85 per cent of the price of their new home – a five per cent deposit and 80 per cent mortgage. The remaining 15 per cent share is covered by an equity loan to be paid back at a convenient time. This loan is interest free for the first five years, with a low interest rate fixed at just three per cent APR from the start of year six. The only requirement is that the equity loan is paid back within 10 years of the original completion date; or if you sell the property, the 15 per cent must be repaid at the property's current open market value.
Bordered by Bath Row and Lee Bank Middleway, and just minutes from The Mailbox, Park Central is an award winning Crest Nicholson development which features an extensive choice of stylish new apartments and townhouses, set around eight acres of landscaped public parkland. Lower Parkside, the latest phase of the development, offers a range of one and two-bedroom apartments alongside highly exclusive two, three and four-bedroom freehold townhouses. Properties at Lower Parkside are available from £94,000 for a one-bedroom apartment, with two-bedroom townhouses priced from £199,000. A townhouse and two bedroom apartment show homes are now open to view at Lower Parkside.
For more information on Park Central, visit the marketing suite, which is open daily from 10am to 5pm and is located at Park Central, 2 Mason Way, Birmingham B15 2EY.