Vauxhall MasterFit's inflation-busting Summer Safety Check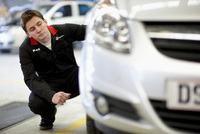 Vauxhall MasterFit's Summer Safety check brings an early ray of sunshine to value-driven motorists.
For an inflation-busting £35, the same price as in 2010 despite the rise in VAT, Vauxhall owners will benefit from knowing their car is topped up with all essential fluids* and that it will be visually inspected for any potential safety issues by Vauxhall MasterFit trained technicians. Not only that, but they will also receive an air conditioning performance check, to identify even the smallest of leaks. Putting the final shine on this great value offering, an Autoglym Summer car care kit containing 325ml of Bodywork Shampoo Conditioner, Super Resin Polish and Car Glass Polish, worth over £20, is also included.
"Vauxhall MasterFit is constantly looking for ways to ensure it offers its customers the best possible value when maintaining their car," said Vauxhall Service Channel manager, Belinda Craik. "Servicing is essential to a car's maintenance but interim safety checks should be taken just as seriously, particularly at the beginning and end of the harsh winter months and before driving it long distances such as to Europe for holidays. Vauxhall MasterFit technicians are trained on Vauxhall vehicles making them ideally qualified to carry out these inspections."
*Fluids will be topped up to a maximum of 0.5-litres as part of the Summer Safety check. Customers will be informed if their car requires additional fluids and advised of the cost before remedial work is undertaken where appropriate.