SuperUte - no April fool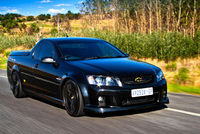 South African tuning company LupiniPower was delighted to learn of BMW M toying with the idea of a BMW M3 Pickup – even if that vehicle was rather dubiously premiered on April Fool's Day.
"As huge BMW M fans, we'd love to see an M3 Pickup as our SuperUte's only real market rival," Michele Lupini explained. "It is hugely gratifying to note that M has taken note of a need for such top-end pick-up vehicles, although we do also need to point out that SuperUte is certainly no joke – our development cycle is now close to being completed and we'll soon be ready to deliver."
The 535bhp 590lb.ft 6-litre supercharged V8 SuperUte is capable of sub 5-second 0-60mph acceleration figures, while 100mph flashes by in just 9.9 seconds. SuperUte flattens the quarter-mile in 12.7 seconds at 113mph, while top speed is a mighty 175mph with all of those figures now ratified by various South African magazine and newspaper road tests.
LupiniPower's SuperUte is not just all speed and power – improvements extend to bigger race-specification front disc brakes and callipers, which have been further upgraded through the vehicle's development, while subtle yet effective suspension tweaks see the standard Ute's already impressive handling, road holding and dynamic ability improve without undue compromise to ride and comfort.
SuperUte comes with a striking staggered 20" wheel & tyre set-up with 8.5J front and 10J wide rear alloy wheels and Bridgestone Potenza RE050 ultra-high performance tyres, while option boxes available to be ticked include full Bilstein suspension and a limited-slip differential for the serious track day fan. Only a limited number of SuperUtes will be built to guarantee exclusivity.
Visit lupini.co.za for more on SuperUte.