Cash-in at Taylor Wimpey's Pinkhill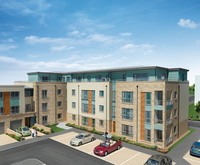 Your cashflow doesn't need to be in short supply if you buy an apartment at Taylor Wimpey's Pinkhill Corstorphine, with buyers currently able to cash-in on a superb deal that will pay them £600 a month* for two years.
Pinkhill Corstorphine boasts a collection of spacious one, two and three bedroom apartments, and stunning penthouse apartments, that offer a well-appointed place to call home that's tucked away in the quiet retreat of Pinkhill opposite Edinburgh Zoo. The development is just minutes from the handy local amenities of Corstorphine, and within easy reach of Edinburgh's Gyle shopping centre, plus Edinburgh Airport is just a short hop in the car or bus.
This contemporary development offers buyers the ultimate in spacious, stylish and low maintenance apartment living, within reach of the capital's vibrant centre but without the Edinburgh price tag. It's a short bus or taxi ride to the city-centre, whilst the development itself is perfectly located within Corstorphine, and some apartments also enjoy magnificent views over Carrick Knowe golf course.
With an impressive specification that includes a choice of contemporary kitchen, good quality bathroom sanitary-ware, plus impressive communal areas, and a starting price from just £215,000 - this development is a great place to call home.
Karen Armstrong, sales and marketing director for Taylor Wimpey East Scotland: "As we all know, our lives and our circumstances are constantly changing – we get married, we have a family – we're always evolving.
"Our desire to move or change property is often driven by life stage, and our offer to give buyers £600 a month to spend in whichever way they wish for the next two years is a great way to maximise the type of property they can afford right now, or perhaps be able to enjoy some of life's little luxuries.

"This generous offer is designed to give customers some confidence in their ability to maximise their next move whether that's up or down the property ladder, and live life to the max!
"Customers will still need to meet affordability criteria, and we advise all our customers to think carefully about how much they are borrowing and their repayment schedule. Customers who are keen to take advantage of this offer are required to discuss their circumstances with our independent financial advisor."
Located off Traquair Park East, Pinkhill Corstorphine is open from Thursday to Monday from 10.00am to 5.30pm.
*£600 paid per month from legal completion for 24 months inclusive. Available on selected plots only.