Chevrolet Spark Art Car needs new livery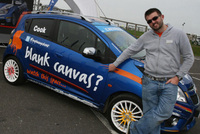 He may have had his SpART attacked, but Britain's quirkiest car artist has turned his misfortune into his latest project.
27-year old Ian Cook, founder of Popbang Colour motoring art, made the one-off Chevrolet SpART last year, after creating images of Chevrolet's new Spark city car and various other projects with the American brand. The car was a moving showcase of Ian's unique work, and was backed by a number of his supporters.
But the little SpART was the victim of a foiled break-in attempt – the would-be car crooks caused extensive damage to the car's door frame and side panels while Ian was away visiting his girlfriend, and while the damage was purely cosmetic, it did mean that much of the SpART's distinctive livery had to come off in the body shop.
"I was gutted," said Ian, who lives in Solihull, W Mids. "They clearly wanted to steal the car as they'd also had a go at the ignition barrel, but most of the damage was to the driver's side door, meaning the whole livery had to come off. My SpART looked very silly indeed with two plain blue doors, so there really was only one thing I could do – strip the whole thing off and start again!"
For the time-being, Ian is driving round with the words 'Blank Canvas' on the sides and bonnet of his much-loved four-wheeled friend, while he invites his army of fans to submit new ideas for the SpART's 2011 new-season look.
"I've a few ideas with varying degrees of wackiness to them," said Ian. "But I'm also open to suggestions from those who follow my work. Anything goes, quite literally, so no matter how bizarre your idea might be, I want to hear about it. The best ideas may well see themselves applied to the car in one way or another – but they have to be a bit wacky, and support the youth appeal and funkiness of the Spark as well as represent both what Popbang and Chevrolet stand for.
"Either that, or I might just throw a bucket of paint over it!"
You can follow the SpART's progress via Ian's Twitter feed at @popbangcolour, or submit your ideas via the Popbang or Chevrolet UK Facebook pages.