Sony extends its innovative 2011 range of Blu-ray products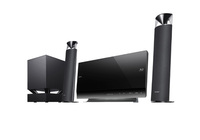 If you're ready for a big, brilliant home entertainment experience like nothing you've ever seen, Sony have got three new 2.1 Blu-ray systems you really need to know better: the BDV-EF200, BDV-L600 and BDV-L800.
Enjoy streaming video directly from the internet with BRAVIA Internet Video. You may think you have to sacrifice sound quality with a 2.1 home cinema. But thanks to S-Force PRO 3D virtual surround sound, all you lose are ugly wires. And IP Noise Reduction technology gives you impressively sharp images, even from internet content.
There are two HDMI ports for simple, one-cable connection with other HD devices, like set-top boxes and games consoles. The iPod/iPhone dock lets you listen to music or watch videos anytime. And you can even control your player with your iPod touch, iPhone or Android smartphone.
Both the BDV-L600 and BDV-L800 give you the freedom to lay out the system how ever you choose. The player itself can be placed horizontally, vertically or mounted on a wall*. The BDV-L800 comes equipped with built-in wi-fi for tidy and hassle-free wireless connections as well as 270-degree speakers that spread sound throughout the room to give great audio quality, no matter where you're sitting.
Exceptional Full HD 3D picture quality: meet the BDP-S780
For the sharpest, most true-to-life picture available in a Blu-ray Disc Player, it's hard to beat the BDP-S780 with 2Dà3D up-conversion. Advanced IP Content Noise Reduction Pro technology smoothes blurry images and delivers a brilliantly crisp, clear view of fuzzy internet videos, blocky streaming movies and low-quality online content. And Super Bit Mapping gives remarkably clean, vivid, lifelike images, whether you're watching Blu-ray, DVD or low-resolution web video.
If you fancy getting a bit closer to far-away friends and loved ones, turn on the wi-fi enabled BDP-S780 and make free voice or video calls using Skype from the convenience and comfort of your living room. See and speak with the people who mean the most to you – on a big, Full HD screen. And if you want to surf the web or operate your player with your smartphone, the Media Remote app puts you in control.
For enterainment on the go, get the BDP-SX1
This year, Sony launches it first-ever portable Blu-ray Disc Player, the BDP-SX1. If you're always on the move and still want to enjoy your personal Blu-ray collection, the BDP-SX1 is the player for you.
The BDP-SX1 sports a 26cm (10.1") high resolution LCD swivel screen for crystal-clear viewing. It offers USB connectivity to easily access content from a variety of personal devices and has a battery that lets you watch for up to 5 hours before recharging.
The BDP-SX1 is compact, lightweight and very transportable – but don't let it's size fool you. You get the same amazing quality entertainment experience as our home-based players, no matter where you go.
* WS-L100 bracket required for BDV-L600
iPod, iPhone and iPod touch are trademarks of Apple Inc.
Android is a trademark of Google Inc. Use of this trademark is subject to Google Permissions.