Celebrate all things Land Rover at annual Heritage Show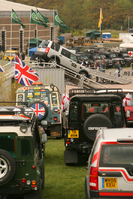 The Heritage Motor Centre is to host the popular annual Heritage Land Rover Show on Sunday 1 May. Thousands of enthusiasts and club members are expected to converge at the show to enjoy a great family day out.
Featuring many different models on display, visitors can also enjoy a number of rides on the new improved Land Rover Experience off-road course including passenger experiences, test tracks and heritage rides. There will also be a special appearance from Shaun the Sheep's Land Rover, plus Ian Cook, the radical artist, will be painting the new Range Rover Evoque. Ian uses a unique style of painting using remote control cars on canvas. Attending the show is the perfect opportunity to see how his creations are produced and to create your very own masterpiece!
Another fantastic exhibition to be showcased during the show is the Land Rover Legacy Travelling Exhibition. The exhibition tells the story of the Lode Lane factory, its people and products, from 1940 to the present day and features photographs from the Archives of the British Motor Industry Heritage Trust.
To celebrate Land Rover's 63rd Birthday, the annual Heritage Run from Lode Lane in Solihull to the HMC will take place. Starting from the home of the legend at the Land Rover factory in Solihull at 10:00am, the procession is due to arrive at the HMC at 11:00am. Featuring around 150 cars, the Heritage Run is an amazing spectacle to see.
Emma Rawlinson, Events Executive at the Heritage Motor Centre stated "We're delighted to be hosting this special event which is an absolute must for Land Rover and Range Rover enthusiasts. For many the show is the highlight on the events calendar and a definite date in the diary for anyone who loves these famous iconic models".
The show will be open from 10am – 5pm. General admission prices are £11 in advance or £14 on the day for adults, £9 in advance or £12 on the day for concessions, £5 in advance or £8 on the day for children aged 5 – 16. Under 5's are admitted free of charge. An advance family ticket costs £30 in advance or £40 on the day and admits 2 adults and 3 children. This year visitors can camp for 3 nights on the Friday, Saturday and Sunday for just £30 in advance and take advantage of a special Museum and Show entrance offer of just £18 for all three days. Advance tickets and camping can be purchased on-line at: hlrw.co.uk
The HMC is also having a large screen brought in so visitors can watch the Royal Wedding on the Friday. The Centre provides the perfect place to spend the entire Bank Holiday Weekend plus visitors can take advantage of the special Royal Wedding ticket. As well as watching the wedding, visitors can gain access to the museum all weekend, see the new 'Sci-Fi at the Movies' exhibition, and attend the Heritage Land Rover show on the Sunday! To find out more information please visit the website at: heritage-motor-centre.co.uk