Insignia hits the D-spot once again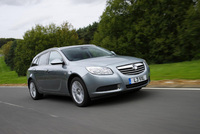 Vauxhall's award-winning Insignia once again led the increasing competitive D-segment last month, according to figures issued by the Society of Motor Manufacturers and Traders.
With total March sales of 7,826 – up a massive 68.92 per cent on the same month last year – the 2009 European Car of the Year-winning Insignia continued to win sales from both mainstream and premium rivals in its class.
One of only two D-segment cars to feature in the UK's top-ten sales league, the Insignia also proved immensely popular with business users, increasing its hold on the D-segment's fleet sales by over 147 per cent compared with March 2010, as well as leading them last month.
And the Insignia's sales success wasn't a flash in the pan, either. The SMMT's figures show that it was also the best-selling D-segment car in the first quarter of 2011, with 11,904 sales in total – more than 1,700 above those of its closest rival, the BMW 3-Series.
Vauxhall had more to celebrate in the compact MPV sector, too. Yet again, the Zafira, with its clever Flex7 seating and broad range of models and engines, topped the segment for both total and fleet sales, paving the way for the all-new Zafira Tourer later this year.
But passenger cars weren't Vauxhall's only success last month. Sales of its commercial vehicles were up over 56 per cent year-on-year, added to which March saw Vauxhall take its largest share ever of the retail van market at 18.36 per cent, the second time in three months that the Luton-based manufacturer has re-written its record books.
"We're naturally very pleased with these results," said Duncan Aldred, Vauxhall's Managing Director. "Not only are vehicles like the Insignia, Zafira, Vivaro and Movano leading the way in each of their sectors, but we're also steadily increasing our market share, year on year. Overall, we now have 12.01 per cent of all UK vehicle sales – that's nearly one per cent up year-to-date. With cars like the new Zafira Tourer, Astra GTC and Ampera all well on their way towards UK showrooms, we're confident we can build still further on this success."