Vauxhall vans top retail sales chart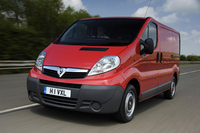 Vauxhall Commercial Vehicles topped the retail sales charts in March with volume up by 56 per cent year-on-year, according to figures released by the Society of Motor Manufacturers and Traders.
The strong sales enabled Vauxhall to achieve a record breaking market share of 18.36 per cent, the second time in three months that the Luton-based manufacturer has re-written the record books.
The British-built Vivaro was number one in the highly competitive retail medium van segment, and Combo was top of the pack in the total light van segment. Vauxhall's retail van sales were buoyed by the offer of four years' 0% APR finance, four years' free servicing, a four year warranty and four years' AA cover.
"March proved to be yet another bumper month for Vauxhall van sales," said Richard Collier, Vauxhall's National Commercial Vehicles Sales Manager. "I am pleased that we are number one at retail and have again achieved an all-time best retail market share for light commercial vehicles. It's great news for Vauxhall that there's still strong demand for high quality vans with low running costs and excellent manufacturer support."
This news came on the back of last month's announcement that Vauxhall's Luton plant – currently Britain's largest producer of light commercial vehicles – had won the contract to build the next generation Vivaro van, securing local jobs well into the next decade.