MG6 - start of UK production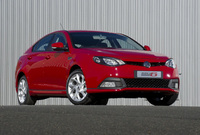 The exciting MG6 sports fastback is the first all-new MG to come out of MG Motor's factory in Birmingham in 16 years. It is our pleasure to invite you to witness this historic moment.
Wednesday, April 13 is the start of full customer production of the new car at the MG Birmingham site.
You will have the opportunity to see the very first customer car coming off line at 11.00am – the line, where final assembly of the MG6 takes place, will start IMMEDIATELY after this, so timing is crucial.
Please arrive at MG Motor's Main Entrance in Lowhill Lane, Longbridge, Birmingham B31 2BQ at 10.00 for a short briefing in the Visitor Centre before we then move across to the Car Assembly Building. There will be a 20 minute slot for photographers to set up picture angles before Customer Car No1 comes off line.