Hyatt Regency Trinidad invites groups to meet and be green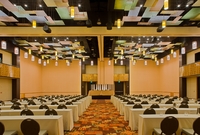 With Earth Day quickly approaching on 22 April, there's just one more reason to think about going green. Hyatt Regency Trinidad, one of the Caribbean's premier business and meetings hotels, is encouraging planners to take advantage of Hyatt's Meet and Be Green programme now and throughout the year.
Planners who pledge to take the following ten steps during their meeting, booked and held before 31 March, 2012, will receive a savings of three percent off the Master Bill:
• Use products with 100 percent recycled content
• Print materials locally
• Minimise shipping
• Recycle during the meeting
• Rather than setting materials at every seat, place meeting materials, such as handouts, notepads, pens, etc., in a central location so attendees can take as needed
• Maintain room temperatures at an appropriate level
• Eliminate disposable water bottles
• Minimise use of other disposable products such as plates, cups, napkins, and utensils
• Select locally grown seasonal foods when planning the menu
• Plan ahead for the meeting to make it easier and more economical to keep the meeting green
Meet and Be Green is one part of Hyatt's larger pledge to conserve energy, minimise waste and create responsible, sustainable corporate practices to care for the earth and guests. By empowering guests to do the same, Hyatt and its planners can help minimise the environmental impact of meetings. Full details of the programme and promotion are available at hyattmeetings.com.
With 428 guestrooms and 43,000 square feet (approx. 3,995 square metres) of meeting space, Hyatt Regency Trinidad offers the largest meeting space in the English-speaking Caribbean. An expert team of conference coordinators, food and beverage managers, entertainment and event planners enables the Hyatt Regency Trinidad to customise gatherings for 25 to 1,700 people. Versatile function space includes small breakout rooms to two ballrooms, including the spectacular 16,000 square foot (approx. 1,486 square-metre) Regency Ballroom. Plus, the latest innovations in meetings technology, audio/visual services and translation facilities effectively combine advanced business service and amenities with cross-cultural communication. Guests who suffer from allergies or other breathing difficulties can rest easy when they book one of the 19 Respire by Hyatt Hypo-Allergenic Rooms at Hyatt Regency Trinidad.
For more information about meetings and conventions or reservations at the Hyatt Regency Trinidad in the heart of downtown Port of Spain, visit trinidad.hyatt.com.