Police-spec Vauxhall in Single Vehicle Architecture first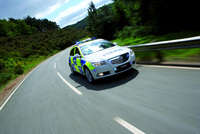 A police specification Vauxhall Insignia became the first vehicle to showcase the highly-anticipated Single Vehicle Architecture (SVA) at the Home Office Scientific Development Branch (HOSDB) exhibition.
Vauxhall's Special Vehicles Operation team has been developing SVA with the Association of Chief Police Officers Intelligent Transportations Systems Working Group (ACPO ITS). The production of the demonstration Insignia represents a major leap forwards in the simplification of equipping police vehicles.
More than just a technology, SVA provides a standardised specification to which all manufacturers and suppliers can adhere, allowing them to produce common wiring for equipment and connection points in emergency vehicles. This will enable plug and play of electronics, reducing the time needed for equipping and decommissioning police vehicles.
"For police vehicles, Single Vehicle Architecture will be hugely significant," said Dick Ellam, Manager Vehicle Conversions for Vauxhall. "The UK has some of the most advanced police vehicles in the world; with features such as automatic number plate recognition and detailed data recording instruments. This has meant that installing these systems in cars was extremely difficult, and each car has until now needed to be installed in a different way depending on the needs of each individual police force. Single Vehicle Architecture will eliminate this complexity."
This major development has earned Vauxhall the coveted honour of being invited onto the ACPO stand for a second year in a row. Last year at HOSDB, Vauxhall announced its ongoing work with the Metropolitan Police Services Team in the development of the One Box Single Vehicle Architecture. Since then, Vauxhall's Special Vehicles Operation team – based at Millbrook in Bedfordshire – has been working with a number of partners on behalf of ACPO, to study the future of equipment installation in police vehicles. This year it has delivered the first police vehicle to be fully equipped with SVA.
"It is a great honour to demonstrate SVA on our Insignia at such an influential show, particularly in partnership with an organisation as well-regarded as ACPO," said Dick.
"We were also delighted to be able to show our British-built Astra to so many of the leaders in today's law enforcement industry."