Dogs stay free at Grosvenor Pulford Hotel & Spa during National Pet Month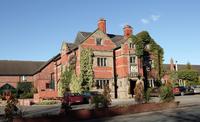 To celebrate National Pet Month, the Grosvenor Pulford Hotel and Spa in Cheshire is welcoming dogs free of charge throughout April, subject to availability.
This privately owned, award-winning, four star hotel – owned and operated by Nelson Hotels – has various bedrooms with patios doors leading to an outside area, which are perfect for guests and their dogs. The hotel also boasts beautiful grounds in which to walk dogs.
Regarded as one of Cheshire's premier wedding venues, the hotel boasts some of the best facilities in the area including a choice of restaurants, the award-winning Spa by Kasia, swimming pool and tennis court.
Dogs are also allowed in the hotel's gastro pub Nelson's Bar, allowing guests to enjoy a tasty meal without leaving their pet behind locked in their bedrooms.
Lucy Nelson, sales and marketing director of Nelson (North West) Hotels Ltd comments: "Each of our properties – the Grosvenor Pulford Hotel and Spa, The Pheasant Inn and The Bear's Paw – is very pet-friendly. Dogs already stay free at The Pheasant Inn and as we know so many people love to bring their pets to the Grosvenor Pulford we wanted to welcome dogs free of charge during National Pet Month."
Anyone wishing to take advantage of this offer should visit grosvenorpulfordhotel.co.uk. The offer is subject to availability.