HomeBuy Direct helps first time buyer in Malton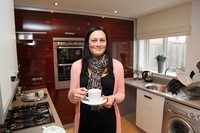 Sarah Barrowby escaped the rental trap to a home of her in Malton with the help of a Government-backed scheme.
"I was living in rented accommodation and when the girl I was sharing with moved out, I took on the rent myself. I decided to look into buying a property after realising renting was a waste of my money and that I would rather be spending it on home of my own," Sarah, 31, explained.
"I looked at buying independently through an estate agent but would have needed a higher deposit of 20% of the purchase price and it wouldn't have been half as good as the home I bought from Redrow with HomeBuy Direct."
HomeBuy Direct enables those with a household income of less than £60,000 to take out an equity loan for up to 30% of the price of a brand new home. Jointly funded by Redrow and the Homes and Communities Agency, the loan is interest-free for the first five years and can be repaid when the customer has more funds available or they come to resell.
The valuable help means purchasers should only need a relatively small deposit of around 5% of the reduced cost. They will only need to apply for a mortgage with a maximum loan-to-value of 70%, which should generally give them access to improved mortgage interest rates
Thanks to HomeBuy Direct, Sarah is now the proud owner of a two-bedroom home at Redrow's Priorpot Mews in Malton.
"What don't I like about it?! It's modern and clean so didn't lots of work doing to it before I could move in," Sarah said of her new home. "It's the perfect size for me and I've taken out a mortgage that's manageable for me as a first time buyer."
She added: "HomeBuy Direct helped make it affordable and the whole process was so easy that I've recommended it to other first time buyers. The Redrow sales team were fantastic and were always willing and able to answer any questions and explain things to me."
Priorpot Mews is set in a semi-rural location, with shops and leisure facilities a short stroll away in Norton itself or Malton town centre. The cities of York and Leeds are within easy commuting distance.
Current availability at Priorpot Mews includes a selection of three and four-bedroom homes. Prices start from £145,000 and with HomeBuy Direct eligible customers could find themselves catapulted onto the property ladder for an initial outlay of just £101,500.
To find out how Redrow could help you buy your dream home, visit the sales office at Priorpot Mews, open Thursday to Monday from 10am to 5.30pm.