LaSource Resort Grenada launches Scuba-Yoga programme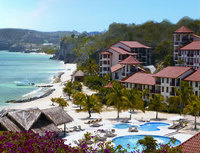 LaSource Resort, Grenada today announced the launch of the Caribbean's first Scuba-Yoga programme incorporating specific yoga and meditation tuition designed to enhance the overall dive experience.

The 3 day Scuba-Yoga programme consists of 3 dives on days chosen by guests over a 7 night stay, balanced with Pranayama yoga techniques and meditation before or after each one.

"Pranayama aids dive performance and gives beginners confidence" said Dr.Manoj Kutteri, the resort's resident holistic programme director, "the specific techniques within the breathing exercises strengthen the lungs and help develop greater ability to breathe with continuity. They also de-stress and create openness of the mind to the quiet world underwater."

Additionally, the meditation element of the Scuba-Yoga programme, with the option of a beach location for the class, helps maintain a positive mindset for the best experience underwater, and has also been known to help those who may have initial fears of being underwater. PADI qualified guests can book a 3-day Scuba-Yoga programme at no extra cost during a week long stay, with yoga and meditation built around their choice of days for morning dives.

The island of Grenada has 22 wrecks in its clear waters and is increasingly popular with divers. LaSource's Scuba-Yoga programme adds to the all-inclusive holistic package enjoyed by guests, which already includes 6 spa treatments, daily tai chi on the beach, tennis and full board.

Gerlinde Seupal, Director of Aquanauts, launching the programme exclusively at LaSource, added:

"There is a general consensus that yoga and scuba diving complement each other, given the emphasis on quality of breath. Habitual patterns are challenged in both activities, our mind is asked to explore new dimensions of our body and its movements in yoga, and diving requires openness to a new environment physically and emotionally. Yoga diving has been available in resorts in the Red Sea, but this is a first for the Caribbean and a great new workshop for guests who dive"

Many UK Holiday companies offer 7 and 14 night stays at LaSource, including BA Holidays, Tropical Sky, Virgin Holidays, Caribtours and Kuoni. Health and Fitness Travel currently have the following offer:

Stay seven nights for the price of six from £1680 per person including flights and all-inclusive accommodation in a luxury room at Lasource (based on two sharing). Book by 30th April 2011 for travel 9th April – 31st October 2011(subject to availability). Health and Fitness Travel (healthandfitnesstravel.com).

LaSource is the Caribbean's leading holistic resort offering guests a world-class luxury all-inclusive resort and spa experience. It is perched on the southern tip of Grenada, on secluded Pink Gin Beach. The resort provides exclusive holidays of rejuvenation with the featured Oasis Spa and its 17 treatment rooms. Its 100 guest rooms, among the best in the Caribbean, are set in tropical gardens and surrounded by the sea on three sides. The 4 restaurants and 3 bars serve a great variety of sumptuous creations from an award winning chef and staff.