Last minute Easter escapes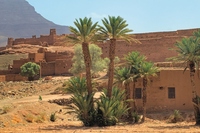 Last-minute trips over Easter are still available for adventurers wanting to get away from fluffy bunnies and egg hunts with escapes to Morocco, the Middle East and India.
Hike in the Atlas Mountains
- Venture deep into the Moroccan mountains, hiking across passes and through traditional villages following a route which will eventually take adventurers to a maximum altitude of 2,021m. The tour will provide travellers with an authentic insight into life in rural Morocco as they stay in traditional Berber village houses. The 8-day Atlas Adventure encompasses the highlights of Marrakech finishing at the bustling Djemaa el-Fna square with time to explore the bazaars.
- Depart on 16 or 24 April from £659pp including flights, accommodation, most meals (7 breakfasts, 5 lunches and 4 dinners) transport and an experienced group leader.
Camp under the stars in Wadi Rum
- For centuries the deserts of Arabia have held a special fascination for Western travellers with towering sandstone landscapes, the lowest point on Earth – the Dead Sea which is 400m below sea level, the 'rose-red city' of Petra and the Dana Nature Reserve. The 9-day Petra & Wadi Rum trip includes a 4WD trip through Wadi Rum with a night under the stars in a Bedouin-style camp and the opportunity to float in the Dead Sea.
- Depart on 23 April from £1329pp including flights, accommodation, most meals (8 breakfasts, 1 lunches and 2 dinners) transport and an experienced group leader.

Bring the Jungle Book to life in one of India's premier National Parks
- Ranthambore National Park is the habitat of the endangered Bengal tigers which survive among the ruined forts and temples. It is also home to the nilgai, sambar and chital – types of antelope – sloth bear, jungle cat and crocodile. The 11-day Wildlife & Moghul Cities trip combines the game drives with The Taj Mahal, the city palace of Jaipur and Rajasthan – the 'Land of Princes'. For a truly authentic experience, explorers even travel on traditional rickshaws.
- Depart on 18 April from £1229pp including flights, hotel accommodation, most meals (9 breakfasts, 2 lunches and 3 dinners) transport and an experienced group leader.
Journey from the plains to the Himalayan Foothills
- Having watched camel carts make their way through streets of colour in the 'pink city' of Jaipur, travellers head northeast to Agra – home to perfectly preserved Moghul architecture and the world-famous Taj Mahal. The 14-day Himalayan Foothills trip then heads into the hills to experience the wildlife of Corbett National Park where travellers go on jeep safaris to seek out wild elephants and tigers. Before heading back to the city of Delhi, explorers spend a night close to the famous River Ganges as they camp down in a remote, picturesque valley.
- Depart on 16 April from £1399pp including flights, accommodation, most meals (12 breakfasts, 3 lunches and 6 dinners) transport and an experienced group leader.
To book, visit: adventurecompany.co.uk