Camping cuisine at Halfords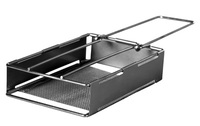 Avoid the traditional camping cooking nightmares. Halfords has everything you need to turn campfire cooking into real camping cuisine.
For budding chefs, the CampinGaz Double Chef Cooker priced at £49.99, provides a premium cooking experience. The two high power burners include an adjustable flame, protected from the wind by the outer casing of the stove, so even in less than desirable conditions there's dinner to be had. The clever design packs down to briefcase size for ease, and even includes a useful grill for cooking up a stir at breakfast.
If cooking isn't your strong point, then take heart with Halfords Folding Toaster, only £3.99. Its simple design allows toast to be cooked safely over a flame, so you can enjoy a classic dish of beans on toast.
For more information, visit halfords.com.