Jeep launches new website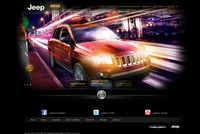 A new website, celebrating Jeep's 70th Anniversary and coinciding with the launch of the newly redesigned Jeep Compass compact SUV, has just been launched (15 April) by the legendary marque's UK operation.
The new site (jeep.co.uk) heralds the arrival of the all-new premium Jeep Grand Cherokee 4x4 as the US-built brand increases its awareness among new and existing customers in the UK.
Using the comprehensive site, users will be able to explore the scope and variety of the latest Jeep product range with 360 images of the vehicles, specifications, features and latest finance offers.
Other helpful features include a section to book a test drive, download a brochure, find users' local Jeep dealer and locate used car offers. And it will link to Jeep UK's new social media profiles on Facebook, YouTube and Twitter, where users can find the latest news, pictures, videos and exclusive competitions, while interacting with Jeep and its army of fans.
"The Internet is a vital tool for people wanting to find out more about buying a new or used car," says Nigel Land, director, Chrysler and Jeep in the UK. "And we can now support this process allowing potential customers to take advantage of our simple-to-use website which will provide a wealth of information for users, and drive active consideration in the Jeep brand by demonstrating both the practicality of our vehicles and their relevance for everyday use."