Drivers are as passionate as ever about their MGs and Rovers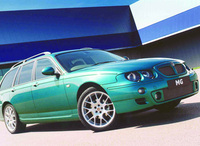 Recent results from the SMMT (Society of Motor Manufacturers and Traders) show that there are still nearly one million MG and Rover cars on the road. These figures demonstrate the longevity of MG Rover cars and the continued success of parts specialist XPart in keeping these highly regarded vehicles on the road.
Some models recorded a decline of just 1% from 2009 to 2010. XPart is proving extremely successful in enabling MG Rover owners to keep their cars on the road. With 92% part availability and programmes such as the write-off avoidance scheme Close Call, the company has provided MG Rover owners with the parts and servicing necessary to preserve their vehicles.
"These results really vindicate the work XPart is doing across the UK. A great many people are passionate about MGs and Rovers and we feel it is important to keep these fine examples of British engineering on the road for as long as possible," says Craig Cooper, XPart General Manager. "The figures show the level of affection people still have for these historic brands and we are constantly finding new ways to source components to ensure that we can provide parts and service to help maintain these fantastic cars."
For MG, the ZR, TF, ZS and ZT all performed well, with each model achieving a decline of less than 5%. Rover models also stood out, with the CityRover and Streetwise falling by a mere 2% and 1% respectively. The total MG Rover parc now numbers 921,811.
For further information on XPart's parts wholesaler and AutoService centre network, or to locate your nearest XPart MG Rover specialist, visit xpart.com.