Apps and tablets - It's shoe time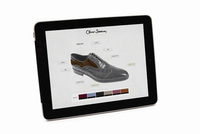 Could tablets as in-store kiosks be the next big gizmo for retailers to better engage with their customers? Custom shoe maker Oliver Sweeney certainly thinks so having commissioned Mobikats design the perfect iPad app for use in-store.
The app enables customers to design their custom Italian shoes for the first time at the point-of-sale. Users select shoe design, type of luxury skin they want the shoe made of and then colour of skin for each panel of the shoe.
The key advantage of the smart app is that users can see the finished shoe design in all its luxury, hugely improving the shopping experience. Users can then email a copy of the finished design and shoe images to their email account for future reference The app took 3 months to produce, working closely with Oliver Sweeney's fashion photographer to produce shoe images as lifelike as the real thing.
Key features:
-users can pick 6 different shoe designs
-users can select 5 different luxury skins from Leather to Stingray in multiple colours
-simple touch interface allows users to a select different parts of their chosen shoe and select the skin colour
-users can emboss the sole of their shoes with their own message and see it on the designed shoe
-users can see different views of the shoe to make sure they've made the right choices
-users can email the finished shoe designs to themselves to share with others.
-allows users to express themselves through their very own unique shoes.
Mobikats now aims to take the Oliver Sweeney shoe app onto the Apple Store to allow the general public to experience the pleasure of designing their own luxury Italian shoes. Users will then be able to design shoes for fun and order them through Oliver Sweeney.
"The keys to successful app development are clear app goals married with elegant simplicity through focussing on rigorous usability," says Phil Hunt, a Mobikats director. "The challenge for Mobikats with this particular iPad app was to make sure that Oliver Sweeney staff and customers had fun and were helped every step of the process by the app."