XPart solves MG Rover bumper challenge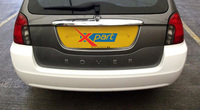 MG Rover OE supplier XPart is introducing a replacement bumper for post-2004 Rover 75 Tourer and MG ZT-T models that will help to ensure that as many MG Rovers as possible remain on the road. The bumpers are back in production and available from XPart, the official supplier of original MG and Rover parts. The new bumper is hand-manufactured, with tolerances tightly controlled to ensure fast, simple fitment. The bumper can be ordered from any XPart wholesaler under part number DQC001031.
"After the success of our Rover 25 replacement bumper we have every confidence that the Rover 75 Tourer and MG ZT-T bumper will provide an effective replacement for all post-2004 model," says Barry Smith, UK Sales Manager, XPart. "We are constantly devising innovative solutions to keep MG Rovers on the road with high quality parts and this is another example of our ever-increasing portfolio."
XPart goes to extraordinary lengths to provide support to MG Rover drivers, achieving 92% part availability which ensures that there are still circa one million MG Rovers on Britain's roads. Complementing XPart's extensive range of replacement parts is its 'Close Call' service, which offers motorists the possibility of saving their MG Rover by providing discounted parts if the car is in danger of being written off. This scheme has saved 80% of vehicles submitted for consideration in the UK since 2006.
"By continuously introducing new parts and developing schemes such as 'Close Call' we are honouring our pledge to provide MG Rover drivers with the resources to keep their cars on the road," comments Smith.
For further information on XPart's parts wholesaler and AutoService centre network, or to locate your nearest XPart MG Rover specialist, visit xpart.co.uk.