Cooking camping style with Simon Rimmer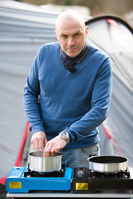 Halfords has teamed up with celebrity Chef, Simon Rimmer to create a series of family recipes that are simple to follow and can easily be cooked and enjoyed outdoors.
The challenge of creating six nutritious family meals that could be cooked on a camping stove was a job TV chef Simon Rimmer jumped at. After all this is a man who set up his first restaurant with no kitchen training and just two cook books.
The resident Chef of BBC2's Something for the Weekend, Simon said:"I set out to show people that just because you are cooking outside doesn't mean you have to compromise. A lot of people have told me that when they go camping they tend to cook baked beans and soup. I really want to encourage people to think outside the tin!
Simon, 47, who has two children, Florence 13 and Hamish, 8, with wife Ali, admits: "I am a bit of a late-comer to camping. A few years ago we went glamping – you know glamorous camping. We took the kids to a Euro Camp in Northern Spain and really enjoyed it. Then a couple of years ago we went to a beautiful place in Santa Barbara where you stay in log cabins and spend a lot of time in the great outdoors. We are heading there again this summer and in the whole two and a half weeks we are there I hardly spend any time in the little kitchen, but cook outside most of the time.
"The Halfords camping stove I used to create these new recipes is an amazingly versatile piece of kit. I have used it before and was very impressed with it. I wanted to show that you can use it for things you would not normally think you could cook outside – you can even make poached salmon with potato gratin on it!"
Halfords Marketing Director, Gerry Murphy said: "We were delighted when Simon agreed to help us, help our customers visualise the great experiences they can enjoy camping. For many the highlight of their outdoor experience is the campfire. and Simon's series of recipes has added an extra enjoyable dimension.
Halfords 467 superstores nationwide provide a one-stop shop for campers. Offering an extensive product range of 30 tents and more than 100 accessories. Providing a valuable fitting service on roof boxes and cycle carriers. Inspiring customers with Simon's simple to follow series of camping recipes. To download Simon's delicious recipe cards and step-by-step videos visit halfords.com/simonrimmer.