Vauxhall wheels for hero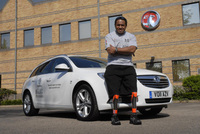 Vauxhall's Help for Heroes Ambassador Private Derek Derenalagi has taken delivery of a specially-adapted Insignia Sports Tourer.

Derek lost his legs in an explosion on military service in Afghanistan. To enable Derek to drive the vehicle, it is equipped with a hand control push/pull brake/accelerator, integral indicator switch and a quick release steering ball.

Derek was one of the first soldiers to benefit from Help for Heroes' assistance and is currently in training for next year's Summer Paralympics in London. Having already achieved a status of fifth in the world for disabled athletics, Derek will be aiming to represent Great Britain in shot put, discus and javelin.

Vauxhall's Motability Sales and Marketing Manager, Hayley Ingram handed over the keys to Derek at the company's Luton HQ.

Derek Derenalagi said: "I'd like to thank Vauxhall sincerely for the use of this great car. I'm training five days a week now, in addition to attending events for Help for Heroes, so it will certainly get plenty of use."

Hayley Ingram said: "I'm very proud to hand the Insignia over to Derek, he's an inspiration to us all. Vauxhall is delighted to support those men and women who, like Derek, have given so much for their country."

Vauxhall also provided Help for Heroes with an additional four support vehicles, including three British-built Astra Sport Tourers and a Movano van, as part of its two-year partnership with the charity.

To date, Vauxhall has raised over £129,000 for Help for Heroes, money which is used by the charity to help those wounded, sick or injured in Britain's current conflicts.

Vauxhall was the number one choice for Motability customers in 2010 delivering in excess of 46,000 cars.