Pre-book a Citroen C-ZERO test drive at Brighton Festival Fringe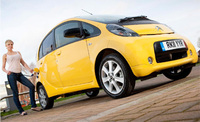 As headline sponsor of this year's Brighton Festival Fringe, Citroen is offering visitors the opportunity to book a test drive in the Citroen C-ZERO - the brand's new 100% electric city car - during the festival period. The Citroen C-ZERO has been designed to facilitate environmentally considerate day-to-day journeys, with a rapid charge to make urban mobility easier.

Festival-goers will be able to enjoy a test drive in the stylish Citroen C-ZERO every Saturday and Sunday throughout the duration of Brighton Festival Fringe. Drivers can register in advance for a test drive by sending an email request with their preferred date to pia.decker[at]citroen.com.

Visitors will also be able to test drive the Citroen C1, DS3 and C3 Picasso, supplied by Tates Citroen in Portslade, every weekend throughout the Brighton Festival Fringe - drivers will need both parts of their driving licence. Tates Citroen, Portslade will have a display of vehicles at the East Street Bastion seafront.

The Brighton Festival Fringe is the third largest open access arts festival in the world, which runs from 7-30 May. A total of 180,000 visitors are expected to attend over 600 events and tickets are on sale now.

For more information, visit brightonfestivalfringe.org.uk.