Mayford Grange at the forefront of sustainable energy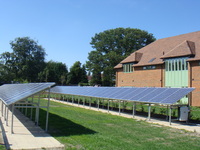 The area's newest lifestyle village for the over 65s – Mayford Grange – is being held up as an example of how sustainable energy translates into good business sense – and cheaper bills for residents.
One of the key design features during the development of Mayford Grange, on the fringes of Mayford, near Woking, was the use of 'green energy'. The architects set themselves the challenge of reducing energy useage by 10 per cent more than regulations required. Those targets were then exceeded.
Now Surrey County Council is highlighting Mayford Grange in its Open Energy Surrey campaign aimed at helping organisations see and learn about sustainable energy from real life examples. Tours of the site are being arranged with particular attention being paid to the photo voltaic cells (solar panels), and the combined heat and power system which produces electricity at less than half the cost of mains electricity and provides 'free' hot water into the bargain.
"This is the technical side of the development but for Mayford Grange as a community it translates into lower energy bills," said Development Director Jami Puckering. "All 42 apartments are insulated beyond the regulatory guidelines and built to a high specification to ensure heat and light are used as effectively as possible."
The village boasts extensive communal facilities including a bar, restaurant, multi function room, hair salon and outside games area. A nine bed nursing home is due to open at the site in the coming weeks.
"We're very proud of our achievements at Mayford Grange," said Jami. "Not only have we built beautiful homes we've created a sustainable community that others recognise as a blueprint to copy."
Pic cap: The photo voltaic panels at Mayford Grange are just one aspect of its eco credentials.